New Fast Track graduate inspiring others
New Fast Track graduate inspiring others
August 6, 2015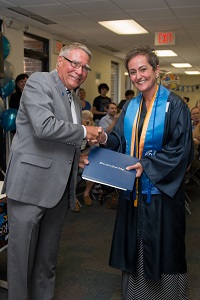 Lina Loncar says that if she can do it, anyone can.
She works full time, is a devoted mother to two young children and has a husband who travels during the week for his job. Despite those potential barriers, Loncar decided in 2012 to tackle the goal that eluded her for more than 20 years: Go back to college.
Last week, Loncar graduated with a near-4.0 GPA from Harper College's Fast Track program. She earned an Associate of Applied Science degree in Business Administration plus two certificates in General Management and Advanced Management.
"I remember sitting in that orientation class and feeling so overwhelmed at what seemed like such a long journey ahead," Loncar, of Addison, said. "But in all honestly, it wasn't. These past two-and-a-half years have of course been hard work at times, but also fun and incredibly rewarding."
Originally from Canada, Loncar was unfamiliar with the U.S. higher education system. But she was quickly intrigued by Fast Track, an accelerated, part-time program designed specifically for students looking to attend either one or two classes sessions a week.
Classes are pre-selected and pre-scheduled, class size is limited and programs are offered in a cohort format in which a group of students attend all courses together. Classes take place at the Harper Professional Center in Schaumburg.
"The program layout was so structured and easy to understand," Loncar said. "I feel kind of out of place on college campuses, so it was comforting going to the HPC, which is a very welcoming environment for adult learners. And my cohort became my second family."
In addition to an Associate in Applied Science career degree in Business Administration, an Associate in Arts transfer degree in Business Administration, and certificates in Human Resource Management, Supply Chain Management and Advanced Accounting Bookkeeper/Clerk, Fast Track will offer three new certificate programs this year: Purchasing, Physical Distribution and Health Information Technology Medical Coding.
Loncar was the student speaker at the Fast Track graduation on July 29. A total of 106 spring and summer graduates earned a total of 148 credentials. Of the group, 82 percent were on the Dean's List at some point in the program.
Though Loncar already enjoys a successful career in the insurance industry, she plans to also get a Human Resources certificate and transfer to a four-year degree program. She hopes her story may inspire others considering earning a credential.
"This is a life goal of mine," Loncar said. "I received so much support and never felt I was neglecting my kids. In fact, they cheer me on and are motivated by my hard work. Really, if I can do this, anyone can."
Anyone interested in learning more about Fast Track is invited to attend an information session from 6 to 7 p.m. Tuesday, Aug. 11, at HPC, 650 E. Higgins Road in Schaumburg. Visit harpercollege.edu/fasttrack for more information.
Media contact: Kim Pohl, Media Relations Manager, 847.925.6159