Laughs abound in Harper's production of "Over the Tavern"
Laughs abound in Harper's production of "Over the Tavern"
August 25, 2015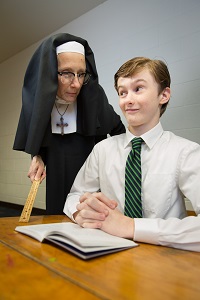 By today's standards, it's difficult to imagine why Elvis' hip-swiveling television appearances caused such a scandal back in the 1950s. But that was a time that marked the end of an idealized era of innocence in America, and the beginning of greater social freedom, consciousness and protest.
Inspired by that era and his own childhood, playwright Tom Dudzick wrote "Over the Tavern," a comedy about a 1950s working class, Polish-Catholic family struggling to make ends meet while raising four children in a cramped apartment over their tavern in Buffalo, N.Y.
The Harper Ensemble Theatre Company's upcoming theater production of "Over the Tavern" will offer a humorous and touching depiction of that period of Americana.
The play will run August 28 through September 6 in the Drama Lab Theatre, Building L, Room L109 on Harper College's main campus, 1200 W. Algonquin Road in Palatine. Performances are at 8 p.m. Fridays and Saturdays and 2 p.m. Sundays.
"The play reminds us how many of the beliefs we carry with us were strongly shaped when we were children, and just how much work it can be to break from obedient acceptance to decide for ourselves what to believe," Director Kevin Long said.
The September 6 performance will be sign-interpreted for audience members who are deaf and hard of hearing.
Director Long and Harper College English Professor Richard Middleton-Kaplan, a special advisor on the play, will lead two special pre-show conversations about the play, its setting and history and Harper's production. Those free events will take place at 1 p.m. prior to the matinee performances on August 30 and September 6 upstairs from the Drama Lab Theatre.
Tickets to the play are $12 to $15, available through the Harper College Box Office at harpercollege.edu/boxoffice or 847.925.6100.
Media contact: Kim Pohl, Media Relations Manager, 847.925.6159