Art exhibit honors first professor's lasting legacy
Art exhibit honors first professor's lasting legacy
September 9, 2015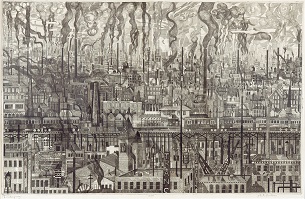 John Knudsen, the first fulltime professor to be hired at Harper College, was known both for the impact he had on students during his long, illustrious teaching career and the prolific artistic practice he maintained.
The College will pay tribute to the painter and printmaker's legacy with its new art exhibit, "John A. Knudsen: Retrospective."
Knudsen, who died last year at age 76, was instrumental in developing Harper's art department, the College's esteemed National Juried Art Exhibition and the extensive permanent art collection on campus.
"This show is a testament to John's time here and the impact on the department, which was profound," said Associate Professor Jason Peot.
A longtime Palatine resident whose Midwestern roots run deep, Knudsen taught studio art classes for 30 years. He was influenced by folk art and enjoyed creating cityscapes. Later in life, he shifted toward landscapes and still-life pieces.
Harper's exhibit features about 25 paintings, prints and drawings from throughout Knudsen's career, selected from the John A. Knudsen Workshop/Gallery in Union Pier, Mich. Peot said he and Professor Perry Pollock made the short trip to Knudsen's studio and sifted through his vast collection to choose which works would best represent the artist.
"He was quite a prolific artist who worked well into his post-retirement life," Peot said. "We had a lot of material to choose from."
The exhibit will run through Thursday, Oct. 1, in Harper's Art Exhibition Space, Building C, Room C200 on the College's main campus, 1200 W. Algonquin Road in Palatine. A reception will be held from 4 to 5:30 p.m. Thursday, Sept. 17.
Harper's gallery is free and open to the public. Regular hours are 8:30 a.m. to 4:30 p.m. Monday through Friday.
For more information, visit jakgallery.com or harpercollege.edu/arts, or call 847.925.6568.
Media contact: Kim Pohl, Media Relations Manager, 847.925.6159