Observatory to hold 25th anniversary celebration
Observatory to hold 25th anniversary celebration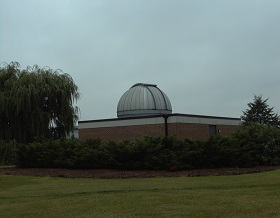 September 9, 2015
The Karl G. Henize Observatory at Harper has given Chicago-area residents a closer look at the universe for 25 years. To mark the milestone, the College will hold a free, open-to-the-public celebration followed by a viewing of the night skies.
The event, which includes a brief presentation, cake, music and, afterward, a viewing of the night skies, will be from 6:30 to 7:30 p.m. Saturday, Sept. 12, in Building D on the College's main campus, 1200 W. Algonquin Road in Palatine. Stargazing will run until 9:30 p.m. through the observatory's main telescope and others set up on the lawn near parking lot 8.
Among those giving remarks will be Dr. Paul Sipiera, professor emeritus of astronomy and geology and an integral figure in the observatory's construction. A prolific author, as well, Sipiera served as adjunct curator of the Field Museum's Pritzker Center for Meteorites and Polar Studies and led an expedition into the Thiel Mountains of Antarctica that discovered 33 meteorites.
The observatory – named for Henize, an astronaut and Northwestern University associate professor who logged nearly 200 hours in space before his death in the early 1990s – has been a popular draw among Northwest suburban residents, who flock to Harper for regular public viewings through the spring, summer and fall. It was constructed with the help of private fundraising efforts, with donations coming in from Harper's Astronomy Club and Student Senate, the Educational Foundation, community members and groups and local chapters of the National Space Society.
Regular viewings will continue every other Saturday night on Sept. 26, Oct. 10, Oct. 24, Nov. 7 and Nov. 21. Volunteers are on-hand to guide novice viewers. The main telescope is a Meade 14-inch Schmidt-Cassegrain telescope, allowing Harper faculty to do research-grade work.
A special viewing will take place for the upcoming lunar eclipse on Sunday, Sept. 27.
For more information, visit harpercollege.edu or contact Kevin Cole at kcole@harpercollege.edu.
Media contact: Kim Pohl, Media Relations Manager, 847.925.6159