Popular ensemble Stringfusion to perform
Popular ensemble Stringfusion to perform
September 28, 2015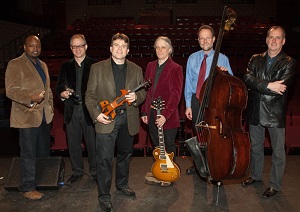 Stringfusion, a dynamic ensemble of musicians led by former Cirque du Soleil electric violinist and Harper College faculty member Edgar Gabriel, is coming to campus for an upcoming performance.
The concert begins at 7:30 p.m. Tuesday, Sept. 29, at the Performing Arts Center on the College's main campus, 1200 W. Algonquin Road in Palatine.
Stringfusion's music transcends time and geography, from baroque to bebop to today's newest music. The group's performance includes original material as well as a special stopover in the 1970s for some Led Zeppelin and Jean Luc Ponty.
In addition to Gabriel, StringFusion features Scott Mason on bass, Kevin O'Connell on keyboards, Ben Johnson on drums, Steve Doyle on guitar and Michael Levin on sax, flute and clarinet.
The eclectic and popular Chicago ensemble often plays to sold-out houses, and Gabriel has worked with some of the greatest musicians in the world, including Robert Plant and Jimmy Page, Daniel Barenboim, Andrea Bocelli, Ray Charles, The Flock and Cheap Trick.
Admission is $7 to $10 and free for children 12 and under. For tickets, visit harpercollege.edu/boxoffice or call the Harper College Box Office at 847.925.6100.
For more information about the group, visit stringfusion.com.
Media contact: Kim Pohl, Media Relations Manager, 847.925.6159