Harper to stage classic musical "Gypsy"
Harper to stage classic musical "Gypsy"
November 12, 2015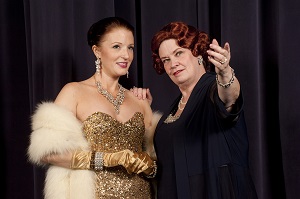 With one show-stopping song after another, "Gypsy" tells the triumphant but heartbreaking story of the ultimate stage mother, Mama Rose, and her relentless pursuit of Vaudeville fame for her daughters.
After driving away pretty, young June, Rose pushes her dreams of success on the older but tomboyish Louise, who rises to fame, becoming the legendary burlesque entertainer, Gypsy Rose Lee.
The Harper Ensemble Theatre Company will stage the award-winning musical based on the book by Arthur Laurents, music by Jule Styne and lyrics by Stephen Sondheim. Performances run Friday, Nov. 13, through Sunday, Nov. 22.
Called "what may be the greatest of all American musicals" by New York Times theater critic Ben Brantley, "Gypsy" is inspired by Lee's 1957 memoir. Its unforgettable score includes "Let Me Entertain You," "Everything's Coming Up Roses" and "Together Wherever We Go."
The show takes place in the Performing Arts Center on the College's main campus, 1200 W. Algonquin Road in Palatine. Performances are held at 8 p.m. Fridays and Saturdays, and at 2 p.m. Sundays.
Director Kevin Long said "Gypsy" is relevant to today's world.
"While it recounts the struggles of Rose and her daughters during the death of vaudeville in the 1920s, the story could easily be played out today," Long said. "Our culture's current fascination with stardom at any cost and the lengths people will go to for fame are strong verification that there are still many Roses out there."
To learn more about the play, its setting and history, Long and Professor Kurt Hemmer will lead a free, pre-show Coffee with the Director event at 1 p.m. Sunday, Nov. 15, and Sunday, Nov. 22, in the Performing Arts Center lobby. Hemmer served as dramaturg, a position that works to ensure the production is historically and culturally accurate.
Tickets to "Gypsy" are $12 for seniors and Harper students, faculty and staff. General admission tickets are $15. Contact the Box Office at 847.925.6100 or harpercollege.edu/boxoffice.
Media contact: Kim Pohl, Media Relations Manager, 847.925.6159