Studio V to celebrate first anniversary
Studio V to celebrate first anniversary
November 30, 2015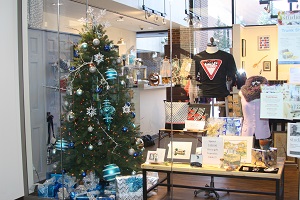 Since Studio V relocated to a newly renovated and far more visible space on Harper College's campus one year ago, far more people are patronizing the professional, student-run boutique.
Studio V will recognize the milestone with an anniversary party and holiday celebration from 5 to 8 p.m. Thursday, Dec. 3.
The store, named Studio V in a nod to the five senses, carries an eclectic array of jewelry, fashion, accessories, sculpture, art and other original pieces. At the celebration party, shoppers who spend $100 will win a prize while supplies last. Harper's Graphic Arts Design Club will also provide free gift wrapping.
Studio V Associate Charmaine Allen said shoppers will be engaged with colors, textures, music, flavors and aromas for a sensational shopping experience.
Studio V is located near the Building J Box Office on the east side of campus. Parking is available in Lot 5. Regular business hours are 10 a.m. to 6 p.m. Tuesday, Wednesday and Thursday. For more information, call 847.925.6163 or email studiov@harpercollege.edu.
Media contact: Kim Pohl, Media Relations Manager, 847.925.6159