Back-to-back titles for Ethics Bowl Team
Back-to-back titles for Ethics Bowl Team
December 8, 2015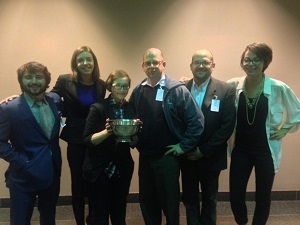 Harper College's Ethics Bowl Team won the Two-Year College National Ethics Bowl Championship, marking the team's second consecutive title. It's also the third championship for Harper since the contest's inception four years ago.
The team went undefeated throughout the event hosted by the University of Baltimore. Ali Longbottom, Austin Wheat, Eri Svenson and Lauren Bell competed for Harper. Team member Lauren Faul was unable to travel to the event.
Teams argue and defend their moral assessment of some of the most troubling and complex ethical issues facing society today.
Harper's victory resulted in a bid to the 20th Intercollegiate Ethics Bowl Championship next February outside of Washington, D.C. Hundreds of two- and four-year colleges and universities throughout the U.S. qualify for the championship through regional competitions. Harper also made it to the quarterfinals last season, the farthest of any two-year school in history.
Associate Professors John Garcia and Brett Fulkerson-Smith are co-coaches of the Ethics Bowl Team.
"Brett and I are extremely proud of the team, as they exhibited great chemistry and poise throughout the day," Garcia said.
Media contact: Kim Pohl, Media Relations Manager, 847.925.6159