Intensive English Program
Intensive English Program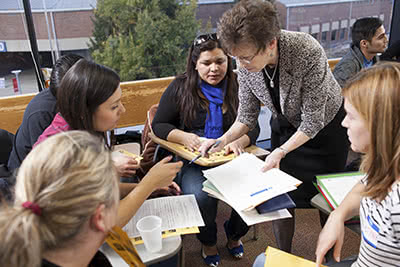 This program is currently unavailable. We are hoping to have the next IEP cohort will begin at later date.







The Intensive English Program at Harper College is dedicated to providing excellent comprehensive language instruction for postsecondary students who are non-native speakers of English. Professionals in the field of teaching English to speakers of other languages (TESOL) use a variety of proven language teaching methods to prepare students for further academic study or employment in the United States. This learner-centered program is offered on a full-time basis to both international students and residents of the United States.
The Intensive English Program strives to achieve the following objectives:
to provide instruction in each of the four language skill areas: reading, writing, listening/speaking and grammar
to increase the English language skills of nonnative speakers to the level needed to meet their academic and career goals
to apply sound teaching methods, including the use of presentations, group work, computer-assisted instruction and the language laboratory
to provide students with strategies that help them learn more effectively and efficiently
to provide support services, such as testing, registration, academic advising and financial aid information
to provide educational resources for students' use, such as comprehensive library services, modern computer and language laboratories and private tutoring
In the Intensive English Program, our purpose is to facilitate language learning in an encouraging student centered environment. From placement through Program completion, faculty and staff strive to create a non-threatening atmosphere for all students. While honoring differences in culture and learning styles, our instructors facilitate meaningful language learning experiences and provide students with the tools necessary to become independent language learners.
Our ESL and Linguistics faculty recognize that as language learners move from one acquisition stage to another, their needs change. At the beginning level, our pur­pose is to help students become confident when using their new language, and we encourage students' practical application of English. At the more advanced levels, we expect students to take more responsibility for their learning.