Sponsor A Student
The Harper College Educational Foundation was proud to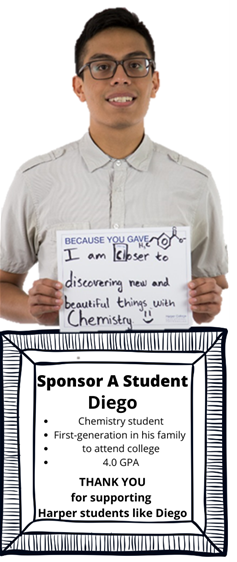 extend $2.3 million in grants, aid, and awards last year.
These funds from our generous community assisted
1,054 students as they pursued their education at Harper.
However, there were 1,482 scholarship applicants who
unfortunately did not receive funding simply because
the Foundation lacked the resources to do so.
We are asking you to help us do even more this year.
For $250 you can sponsor a students' education. Not
only will you know you're making a difference, we will
give you a cardboard cut out of a Harper student you
can display at your home or office to show you made a
difference. Plus, we'll recognize your sponsorship on the
course at our Golf Outing alongside all those who showed
their support.
Not planning on joining us for the Golf Outing?
No problem.
It's a great way to further the Foundation's mission and
help hardworking students succeed, whether you're a
golfer or not. This is a great way to empower Harper
students who need a bit of financial help to achieve
their goals.