Sponsor A Student
For $250 you can sponsor a student's education.
The Harper College Educational Foundation proudly issued $2.7 million in grants,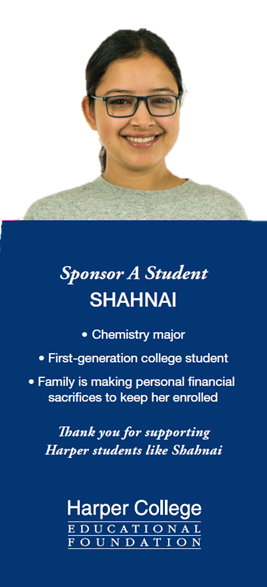 awards and aid last year thanks to generous donors like you. Your support for this program provides vital aid for students and programs at Harper College.
Thanks to our community partners, we were able to assist 1,005 Harper College students last year. But, each year dedicated students in need of financial resources are not awarded scholarships simply because the Foundation lacks the resources to help them.
Your generosity moves us closer to helping every student
who deserves our support.
As a sponsor, you will be recognized on the course at the June Golf Outing
with special signage. Not only will you know you're making a difference, we will give you a standee display for your home or office to show
you made a difference.
Not attending the Golf Outing? No problem! We will mail your commemorative standee to your home or office.
Questions? Contact Kristyn Meyer at kmeyer@harpercollege.edu
or 847.925.6468.