Recipient Profile: Nicole Weber
Nicole Weber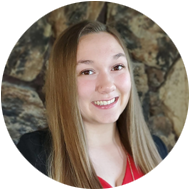 Nicole Weber earned her GED at Harper and is currently pursuing her Associate of Engineering Science with a probable focus on Aerospace Engineering. She will begin her second year at Harper College in Fall 2020. She is a first-generation college student with a strong passion for math, physics, and programming. She feels her mind is programmed for math and her enthusiasm for it comes through in her studies in which she maintains a 4.0 GPA. She plans to transfer to Illinois Institute of Technology after graduating from Harper.
Nicole is a member of Women in Science and Engineering (WISE) club at Harper as well as Phi Theta Kappa. She works as a tutor in the tutoring center on campus and has been tutoring adults in the GED program. She volunteered at Harper's EXPO day in the fall and the Science Olympiad. Nicole has worked since she was 15 years old and currently works two jobs to support herself while simultaneously keeping her studies at the forefront.
In her scholarship application Nicole Weber states: "As a future engineer, I am ready to find solutions to problems that people face daily and make a positive impact on the world around me. I have seen the impact that people have on the world and I will use my talents to help make it a better place. After I graduate from college, it is a goal of mine to use science and math to help make a difference by creating interactive models that will help educate the public. I hope to one day find a job that encourages me to climb the ladder of success while incorporating math and science into my everyday tasks."
Shout Outs to Nicole
Congratulations Nicole! You continue to impress me, and I look forward to hearing about all your future accomplishments!
Brian Foecking
Nicole - you are a true inspiration! Keep up the great work, I look forward to all your future achievements.
Bill Brown
Congratulations Nicole! Well deserved!
Chris Athanassopoulos
I knew you would go on and do great things. I remember when you were scared college would be too difficult for you, but in the back of my mind I knew you would excel at anything you did. Proud of you!
Devin Chambers
Congrats & welcome to the HOPE family!! I look forward to hearing from you by text, phone, or email so we can get to know each other.
Linda Kolbusz-Kosan
Congratulations Nicole! You are the most motivated, hardworking, and talented person I know. Keep going and continue doing great things. You got this!
Emma Law
Nicole, Congratulations on receiving the Hope Giving Circle Scholarship. With your leadership and motivation to strive for excellence in everything you do, you will make a positive impact on the world and accomplish your goals.
Georgeanna Mehr
All the best, Nicole! Your accomplishments thus far are truly impressive. Thank you for being part of our Harper family. :)
Vicki Atkinson
Congratulations Nicole!
Laura Brown
Congrats, Nicole, on being named a recipient of the HOPE Scholarship! We look forward to all that is ahead of you!
Shannon Hynes
Nicole, Congratulations! I am impressed with you accomplishments and ambitions. You seem very qualified for the scholarship. I wish you great success in the future.
Bess Nicholas