Completion Celebration
Every step of your educational journey is worth celebrating! The Fast Track program has completion celebrations twice per year to honor our certificate and degree graduates. These celebrations are in addition to Harper's main graduation / commencement ceremony in spring.
The Fast Track completion celebration includes a general reception and a short program. The atmosphere is casual, and the entire event is one hour.
For all questions about the Completion Celebration, please call Fast Track at 847.925.6438.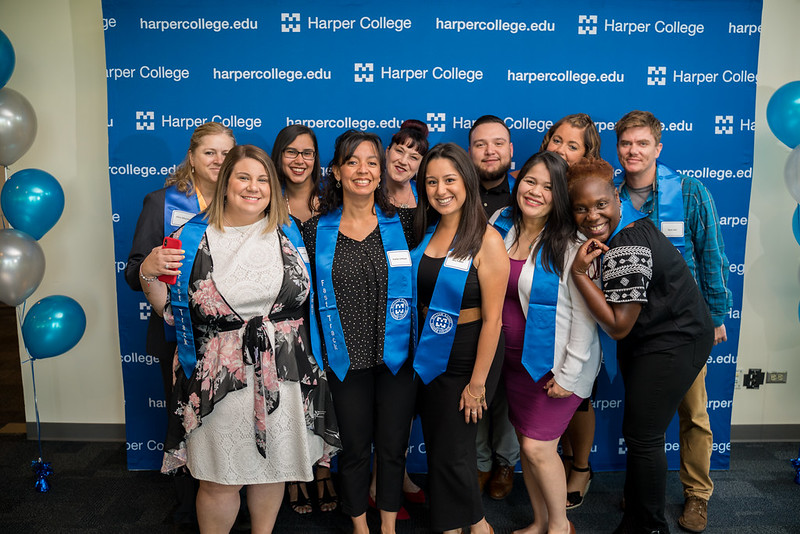 Completion Celebration: Monday, December 9, 2019
5-6 p.m. Wojcik Conference Center, main Palatine campus
Fast Track students earning a certificate or degree in Fall 2019 will receive additional information through an e-vite sent by the Fast Track office. Family and friends are invited to attend. Please be sure to RSVP with your number of guests when you receive the e-vite. A map and directions are below.
General reception begins at 5:00 p.m. in the dining room
Short program is at 5:30 p.m.
Reception continues after the program
General Information
Children are invited to attend, and we love having family members join the celebration!
Dress is casual. No cap and gown required.
Students earning a certificate or degree will receive a gift to honor their achievements.
Students also will have opportunities to have their picture taken with their families, friends, and classmates.
Map and Directions
The Wojcik Conference Center (Building W) is located off Roselle Road, just north of Algonquin Road. The parking lot is next to the building. The address, map and directions are below. Park in Lot 14 and enter through the main entrance.
You will see signs posted for the celebration.
There also is a circle drive for guest drop-off and pick-up.
Main address and phone for Wojcik Conference Center (WCC).
1200 W. Algonquin Road, Building W, Palatine, IL 60067
Phone: 847.348.5100