Endowed Scholarship Story
A wedding gift that changes lives

Linda Kolbusz-Kosan and Ken Kosan, Founding Donors, Kolbusz-Kosan Endowed Scholarship

June 4, 2018

June 4, 2018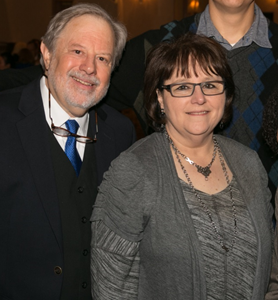 As older adults getting married, we didn't need to have a traditional gift registry. Instead, we endowed the scholarship and asked guests to donate. Now the scholarship could continue in perpetuity. We felt it was the best way to assist students while celebrating a special time.
We have targeted under represented and underserved students with this scholarship. Students in financial need, first generation college students, returning adults, students from culturally diverse backgrounds are assisted. The money can be used for tuition, fees, and any other expense that is incurred which might keep a student from applying, continuing, or completing a degree at Harper. These expenses could be books/materials, transportation, childcare expenses, and/or costs related to an internship. Often, these incidental expenses can be barriers to completion.
To learn more about establishing an endowed scholarship, contact Foundation Staff at foundation@harpercollege.edu or 847.925.6490.