The Naysayers Got It Wrong
Ruth Morales: The Naysayers Got It Wrong

Communications

May 15, 2018

May 15, 2018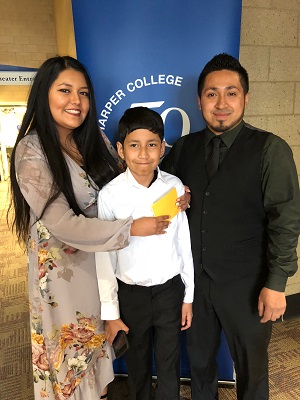 "Where you are at is where you will be for the rest of your life."

That sentence was paralyzing for Ruth Morales. She was 16 years old, pregnant and still in high school. People were counseling her to give up her baby - saying if she didn't, she wouldn't amount to anything.

Admittedly, her future looked pretty dim. Ruth described herself as not the greatest high school student, and there was no money for college.

Though the path forward was not clear, Ruth knew she couldn't give up her baby. She took summer school classes, graduated from Palatine High School early, gave birth to her baby boy and started working.

"I waitressed for seven years. I was stuck, just as they predicted. One day my husband said to me, 'Is this what you want to do for the rest of your life?'"

Of course not. She had dreams of becoming a physical therapist. When her son, Donovan, was born, he was diagnosed with low muscle tone. He spent the first five years of his life in physical therapy. These regular visits to the physical therapist sparked a desire in Ruth to help others regain their strength.

She had already attempted to nurse that spark once. Back in 2012, she took a couple of courses at Harper. However, she was not in a good place at that time. She was in an abusive relationship and was embarrassed to go to class with visible bruises. She ended up stopping out.

But, four years later, with her husband's support and encouragement, she returned to Harper. "I decided I would enroll in the most challenging class I could think of, anatomy. I said to myself, 'If I can't make it through a really hard class like anatomy, then I am not meant to be a student.'"

She was very shy and lacked confidence in the beginning, but that changed with the help of retired Professor Ken Hyde. "I answered questions quietly. My professor, Dr. Hyde, would tell me, 'Speak up, speak up. You know the answers; I see you mouthing the words.' It was because of him, I stayed in school." She also proved to herself that she was meant to be a college student – she earned an A in anatomy.

There were days when she wanted to quit. "At first I felt really out of place, I was a 26- year-old mother surrounded by 18 year olds. When other students were getting together after class, I was going home to feed my son."

Her son is the very reason she kept going. "I wanted a better future for him." Donovan is 11 years old now and thinks college is "way cooler" than middle school. He is already engaging with Harper – he and his mother volunteered at Community Day, helping run an activity at last month's College and Career Expo.

Ruth credits not only Dr. Hyde, but all of her instructors and the many Harper resources with helping her succeed. "The professors at Harper really care about the students. They are approachable and get to know their students. And if it weren't for the Tutoring Center, I may not have passed calculus, and most certainly would not have gotten an A."

Her professors have a similar respect for Ruth. Craig Stettner, Ruth's biology professor, describes her as having a superb attitude: "Ruth was a great student on all levels. She excelled academically. On her lab team, she was an excellent leader, and she positively impacted the performance of every member of her team."

Two years later, at 28 years old, Ruth is a member of Phi Theta Kappa and will be graduating with honors this weekend. She was accepted by all five colleges she applied to. This fall, she will be attending Benedictine University with a very generous scholarship. Her plan is to major in biology and then get her Doctor of Physical Therapy degree. "Harper has been a wonderful, positive experience. That's why I don't want to leave, but I know I have to," Ruth acknowledged.

Her husband always believed she could get her two-year degree, though he never expected she would want to go for her doctorate. He very proudly introduces her as his "smart wife." She might laugh off this description, but she will leave Harper confident that her dream is within her reach.