Scholarships Lift a Heavy Financial Weight
Scholarships Lift a Heavy Financial Weight

Harper College

July 6, 2016

July 6, 2016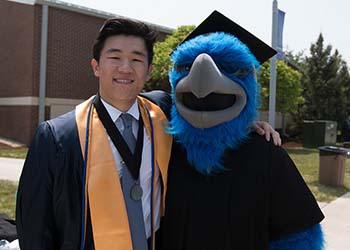 "Receiving that email stating I was awarded two scholarships that covered all of my spring tuition cost was truly a special moment. This heavy weight of financial burden that sat on my shoulders for oh so long…just seamlessly fell off."
Two years ago, San wasn't sure he would be able to attend college due to limited financial resources. However, armed with the dream to become an accountant and start his own business, he decided to attend Harper while working full-time to personally cover the full cost of his education.
Exhausted from school, work, and heavy financial burden, San discovered that the Harper College Educational Foundation offered scholarships and decided to apply. He was awarded two scholarships that covered the full cost of his tuition.
These scholarships lifted a heavy financial weight for San; moreover, they provided opportunities to become involved. When San graduated from Harper this May, he did so as a student government senator, the president of the Accounting Club, an Honor Society officer, a mentor for autistic peers, and a supplemental instructor for accounting.
San shared that these leadership positions, "allowed me to develop essential skills in communication and productivity and unlocked a confidence that hid within me." Now, San is transferring to a four-year school with full belief that he will realize his dream of becoming an accountant and owning a business.
San thanks his donors and all donors who support Harper students, "It is absolutely amazing to know that there are people such as you who are willing to offer their hard-earned money to fund students' dreams."