2022 Realizing Dreams

The Realizing Dreams Event was held on Saturday, April 23, 2022. This event featured small group conversations between scholarship donors and Harper scholarship recipients. To learn more, please email foundation@harpercollege.edu.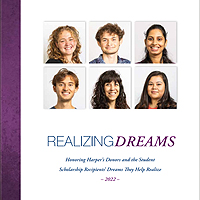 Realizing Dreams Books
Flip through current and past Realizing Dreams books. View the books
Scholarship Donor Spotlight
Harper Nursing Retiree establishes new scholarship for future generations of Harper students
During the past year, Mary Gretchen Vancura has had a lot of time to think about the challenges nurses have been facing during the COVID-19 pandemic. "The COVID news coverage illustrates critical roles nurses play every day," she said.
Thanks to her generosity through a scholarship and planned gift, Mary Gretchen is ensuring that Harper nursing students will get the financial support they need to complete their studies and meet our community's needs.
Mary Gretchen has deep ties to Harper. After earning a bachelor's degree in nursing with a specialty in pediatric nursing from the University of Illinois-Chicago and teaching there for two years, she realized she was on the right path and attended the University of Florida to pursue a graduate degree. She applied for a faculty position at Harper in 1971 and worked as a nursing faculty member until her retirement in 1996.
"Harper was only a few years old when I interviewed, and I remember thinking that Harper had a commitment to excellence coming out of the gate, which appealed to me," she said.
Last August, Mary Gretchen contacted the Harper College Educational Foundation about including a gift in her estate plan. After a meeting with her financial advisor, she determined that she could still provide for family and friends and donate to support Harper nursing students. She made Harper College a contingent beneficiary of her IRA, creating a nursing scholarship and a fund to support nursing faculty and program development.
An active retiree who spent 13 years traveling across the United States in a motor home, Mary Gretchen jokes that Harper will not be receiving her planned gifts for many years. But she believes that few programs are as demanding as nursing and didn't want to delay supporting students. In fall 2020, she created the MG Vancura Nursing Scholarship, which will be awarded in spring 2021.
Mary Gretchen was inspired to create these gifts because of the value and excellence she believes Harper provides. "I can't imagine the community without Harper – the interaction of the college and community is amazing and provides such value."
Realizing Dreams Photo Galleries
Check out photo galleries from recent events. View the galleries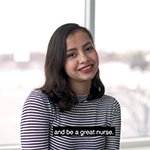 Realizing Dreams Videos
Check out videos from recent events. View the videos