Employee & Student Wellness
Wellness Dimensions
Health and wellness are important components to overall personal and professional success. Wellness is not merely the absence of illness or distress — wellness is striving for positive physical, mental and social well-being.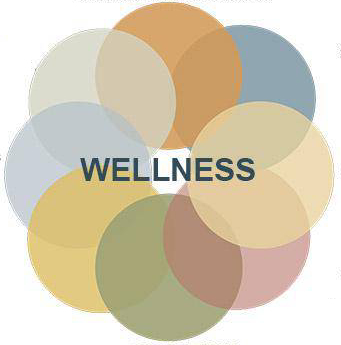 Wellness is an iterative and lifelong process consisting of making decisions and choices that support a more harmonious life.
In turn, striving for a harmony that is right for you and one that encompasses a variety of wellness dimensions enables you to maximize your potential and overall success. While physical health is an important component to overall wellness, there are several other dimensions that contribute to an individual's well-being. To learn more, check out the 8 Dimensions of Wellness below or watch this short video!
Each dimension contributes to an individual's overall well-being and quality of life, and each dimension can affect and overlap one other. At times, one may be more prominent than others, but neglect of any one dimension for any length of time can have adverse effects on an individual's health and well-being.
References: https://www.cdc.gov/hrqol/wellbeing.htm and The Wheel of Wellness Counseling for Wellness: A Holistic Model for Treatment Planning: A Wellness Approach: Psychiatric Rehabilitation Journal