Employee & Student Wellness
Wellness Dimensions
Health and wellness are important components to overall personal and professional success. Wellness is not merely the absence of illness or distress — wellness is striving for positive physical, mental and social well-being.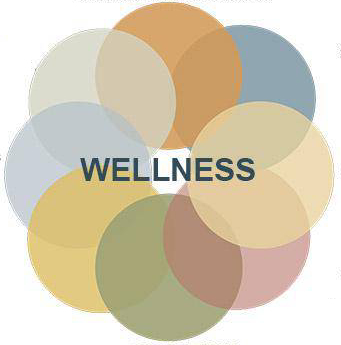 Wellness is an iterative and lifelong process consisting of making decisions and choices that support a more harmonious life.
In turn, striving for a harmony that is right for you and one that encompasses a variety of wellness dimensions enables you to maximize your potential and overall success. While physical health is an important component to overall wellness, there are several other dimensions that contribute to an individual's well-being that include:
Emotional Wellness
Emotional wellness refers to the recognition, awareness, and acceptance of one's own feelings. The emotional dimension focuses on striving for positivity and happiness through an optimistic approach to life. Emotional wellness inspires self-care, relaxation, stress reduction and the development of inner strength. It is important to be attentive to both positive and negative feelings and be able to understand how to handle these emotions. Emotional wellness also includes the ability to learn and grow from experiences and encourages autonomy and proper decision-making skills.
Environmental Wellness
Environmental wellness is the ability to recognize our own responsibility for the quality of the air, the water, the land that surrounds us, and the people that surround us. The ability to make a positive impact on the quality of our environment, be it our homes, our communities or our planet contributes to our Environmental Wellness. Environmental wellness is about occupying pleasant, stimulating environments that support well-being. Focusing on environmental wellness means that you become aware of your daily habits and how they can affect the environment you live in.
Learn how you can be more environmentally friendly at Harper and beyond by becoming more involved with Harper's Sustainability efforts.
Financial Wellness
Financial wellness is the ability to feel satisfaction about your financial situation and to manage what we currently have in a responsible manner. Finances are a common stressor for people, so being able to minimize worry about this aspect of your life can enhance your overall wellness. It's important to continually plan out your finances both in the short and long-term.
Intellectual Wellness
Intellectual wellness focuses on engaging oneself in activities, classes or experiences that challenge our thinking and knowledge about the world and our surroundings. Engaging with others from diverse backgrounds and perspectives, in addition to using individual personal creativity to explore and innovate, can contribute to the intellectual wellness dimension. Intellectual wellness focuses on pushing ourselves to ask questions, be curious, challenge our own ways of thinking, observe, listen, develop new ideas and become life-long learners. Learning doesn't stop at college as we all continue to grow and learn throughout our lives.
Occupational Wellness
Occupational wellness is the ability to receive personal fulfillment, purpose and satisfaction from our jobs or our chosen career fields while still maintaining a sense of balance in our lives. Our desire to contribute in our careers and to make a positive impact on the organizations and communities we work in lends itself to occupational wellness. Sure, a paycheck is an important part of a job. However, occupational wellness focuses on our ability to find meaning in our jobs and knowing that we are making a difference in the world.
Physical Wellness
Physical wellness is the ability to maintain a healthy quality of life that allows us to get through our daily activities without undue fatigue or physical stress. The ability to recognize that our behaviors have a significant impact on our wellness and adopting healthful habits (routine check-ups, a balanced diet, exercise, etc.) while avoiding destructive habits (tobacco, drugs, alcohol, etc.) will lead to optimal physical wellness.
Get your body moving by attending a group exercise class at the Health and Recreation Center (HRC). Students receive free access to the HRC, which not only includes group exercise classes, eGaming Room, pool, suspended track and more! Not a student? Employee memberships are only $25!
Social Wellness
Social wellness is the ability to relate to and connect with other people in our world. Our ability to establish and maintain positive relationships with family, friends, co-workers and surrounding community through a variety of modalities such as programs, events, workshops, and outings contributes to our Social Wellness.
Attend a Harper College Athletics sporting event to build community and socialize with your peers or colleagues! Check out the athletics schedule for dates and times. Sporting events are free for students.
Get involved on campus with a variety of activities, leadership programs or even student organizations through the Department of Student Involvement. Not a student? Harper staff and faculty can also get involved by becoming advisors for a club or organization!
Spiritual Wellness
Spiritual wellness refers to our ability to develop congruency between our own values and actions. Moreover, spiritual wellness allows individuals to define purpose in their lives and make meaning of certain life events. This dimension is about establishing our own personal morals, ethics and what we stand for as individuals in the world. Some people might find spiritual wellness through religion and faith while others turn to nature or other mindfulness practices. Exploring our own moral and ethical compass through a variety of self-exploration activities contributes to the Spiritual Wellness dimension.
Each dimension contributes to an individual's overall well-being and quality of life, and each dimension can affect and overlap one other. At times, one may be more prominent than others, but neglect of any one dimension for any length of time can have adverse effects on an individual's health and well-being.
References: https://www.cdc.gov/hrqol/wellbeing.htm and The Wheel of Wellness Counseling for Wellness: A Holistic Model for Treatment Planning: A Wellness Approach: Psychiatric Rehabilitation Journal