Mother, daughter students working side-by-side to study nursing
Mother, daughter students working side-by-side to study nursing

Harper College News Bureau

January 15, 2020

January 15, 2020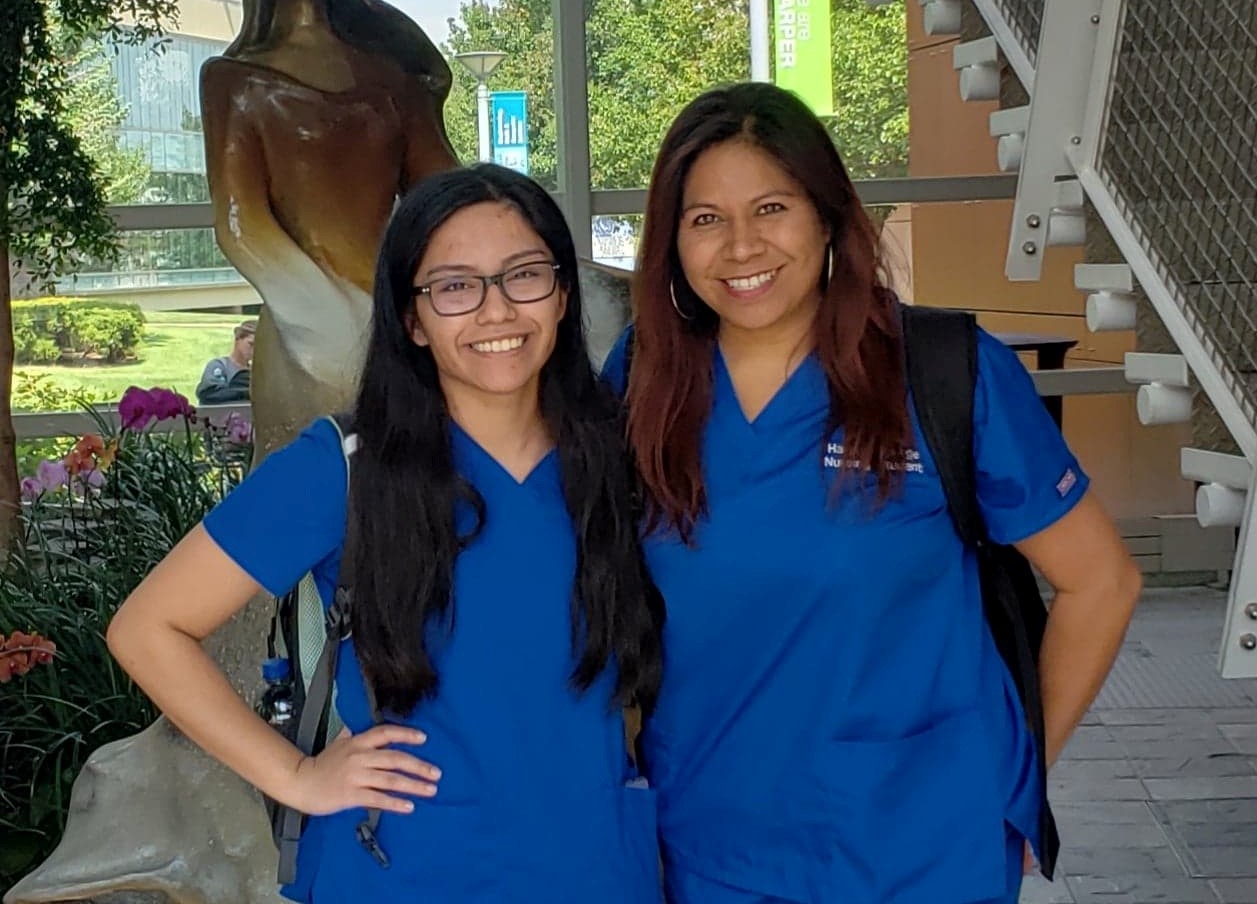 When Elizabeth Jaimes first revealed that fellow classmate Monica Cardenas was her mother, no one believed her.
"Everyone said, 'No, she's not. No way.' Some of them, to this day, they're not convinced," Elizabeth said.
Elizabeth and Monica, of Hanover Park, are both Licensed Practical Nursing students at Harper College. Though they take the same classes and are in the same study group, the mother-daughter duo came to the program in incredibly different ways.
Elizabeth entered Harper in 2014, fresh out of Hoffman Estates High School. She had considered a career in the medical field but was hesitant to commit to a program.
"I just didn't want to start something that I wouldn't finish later on," she said. "I wanted to make sure I was actually serious about it."
Any doubt Elizabeth had was erased when she took some Certified Nursing Assistant classes and fell in love with working with older adults.
Monica had encouraged her daughter to study nursing, too, in part because she had always thought about becoming a nurse herself. However, she was an undocumented immigrant at the time and was deterred by certain barriers that would make that path more difficult.
Instead, Monica became a hairstylist when she moved to the United States from Mexico. She did that for two decades before she decided she wanted to pursue a different career. But she knew she needed her high school diploma.
She worked with the Adult Educational Department at Harper to prepare for the High School Equivalency (HSE) exam, which she found intimidating. Monica had previously passed a test to become a licensed cosmetologist, but she was able to take both the exam and the preparatory classes in Spanish.
"For me to enter a school where I had to learn in English … I spoke English, but I didn't write English much," Monica said. "Even now, classes are a little bit harder for me. Even though I speak in English and write in English, I do not think in English. I translate."
She found support through one of Harper's student development specialists who became a mentor and helped to push and encourage her. She passed her exam, achieving her original goal of earning her high school diploma to become more attractive to hiring managers.
Then came the HSE graduation ceremony.
"They made me wear that hat and all of that stuff," she said. "I got very excited because I walked on the stage, and I shake someone's hand. I felt really good, like I was succeeding or doing something toward getting better in life."
Monica plans to finish the program this spring, then take her Bridge to Advance Nursing classes, which will prepare her for the Registered Nursing program. She's working toward an associate degree and plans to work with older adults.
Elizabeth, too, plans to eventually earn her master's degree and become a nurse practitioner. She currently works as a patient care technician at Advocate Sherman Hospital in Elgin.
Going to school with her mom has been interesting – and extremely valuable, according to Elizabeth.
"We've been supporting each other, which has helped a lot," she said.
Said Monica, "I never thought I would be going with her to school and doing the same things. I love it."