Harper Jazz Ensemble entertains with virtual performances
Harper Jazz Ensemble entertains with virtual performances

Harper College News Bureau

May 13, 2020

May 13, 2020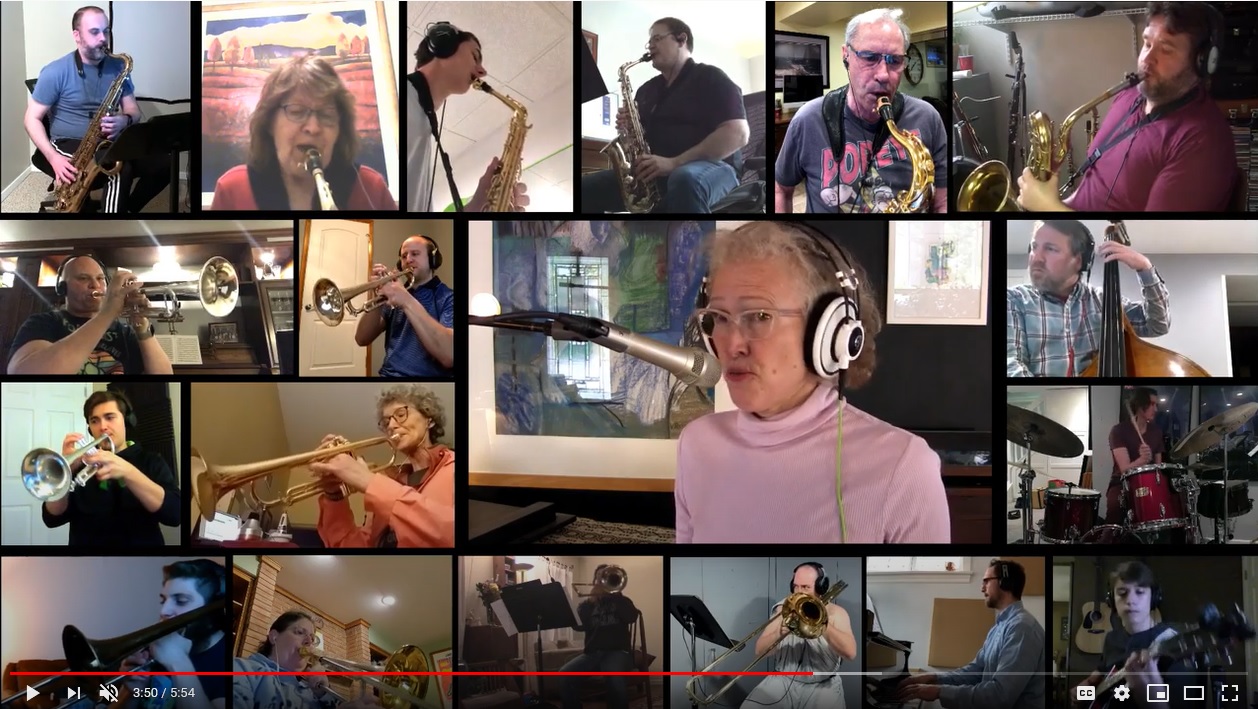 When Harper College moved to online classes due to the COVID-19 pandemic, it effectively canceled the Jazz Ensemble's spring concert. Jeff Hedberg, an adjunct faculty member and the ensemble's director, could meet with musicians individually via Zoom, but the moving parts a live concert would require wasn't feasible online.
So he orchestrated virtual performances with musicians playing their individual parts from home.
"As a teacher, it is very hard to watch students work at something and then just have that end goal, pew, ripped right out from underneath them," Hedberg says. "This is a small way for me to honor the work they have put in."
The ensemble has produced the performances "Bewitched, Bothered and Bewildered" and "When In Rome" featuring a mix of students and community members, who make up the ensemble, and a guest musician or two. An octet of jazz faculty, alumni and other guests also put out "Strollin'."
How the videos came together
For each video, Hedberg first generated a track to send to the musicians, something they could play along with. The musicians had to record themselves playing the full, uninterrupted song and sent their final video to Hedberg.
From there, Hedberg edited each video, lining up each audio precisely, then matching that as closely as possible with the video. Then, he had to find a way to arrange each video on the screen in a way that looked appealing but not overwhelming. His wife helped.
"She's a scrapbooker at heart," he says. She knows "what shapes look good, how to make (a layout) look visually interesting while you should be listening."
Aiden Olesen joined the Jazz Ensemble in the fall, so he had experiences with regular practices and working toward a traditional concert. When he learned that this semester, he'd be playing in a virtual performance, he was unsure.
"I was kind of nervous at first because I didn't know how this is going to sound, but once I heard the final product," he was pleased, he says. "It actually sounded really good."
Aiden, 19, of Fox River Grove, has played the trumpet for more than 10 years, and he plans to get his bachelor's degree in music education after graduating from Harper. (That's him on the far left, third from the top, in the black hoodie.) He estimates it took about 30 or 40 takes before landing on a performance he was proud to send to Hedberg.
He also enjoyed learning about audio recording and the process behind packaging all the recordings into a cohesive, moving performance.
"I'm a perfectionist, and I have to get it just right," Aiden says. "This whole thing has opened my eyes. It's difference, but I like it."
The benefits of remote concerts
While it's not an ideal way for a musical group to perform, these virtual performances have had their upsides – for one, they're getting students used to playing for strangers.
"When you do a concert in a school, you're never going to get negative feedback," says Darren Scorza, who teaches jazz percussion at Harper and helped Hedberg with the videos. "Students need to learn how to capture an audience, and it's better to do that in places (that aren't) school, where you look out and see familiar faces."
The videos have also raised awareness of the Jazz Ensemble to the community.
"I've gotten a lot of surprising responses from people I don't even know: 'Wow, I didn't know this was happening. I didn't know we had a group of this caliber,'" Hedberg says. "It's a nice way to show people who may not be (familiar with the ensemble), this is what's going on in the music department at Harper."