Harper College students grateful for CARES Act funding
Harper College students grateful for CARES Act funding

Harper College Communications

June 23, 2020

June 23, 2020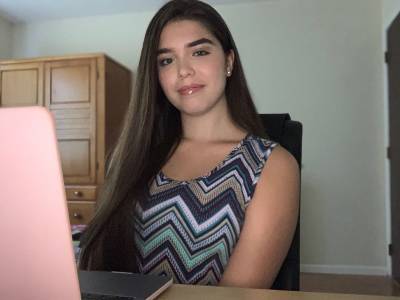 Before March 2020, Gabriela Sanchez spent several hours each day on the top floor of the library at Harper College studying. Not only was it a quiet place for her to do homework, but it was her only access to the internet.
When the stay-at-home orders went into effect and colleges made the rapid transition to online instruction, Gabriela, 25, of Palatine, had to rely on her phone as a hot spot for the internet she needed to complete her three spring courses at Harper.
"Hot spot internet can be very slow," Gabriela said. "It makes doing schoolwork that is purely online difficult. It is a huge disadvantage."
Thanks to the funding provided by the Coronavirus Aid, Relief, and Economic Security Act (CARES) Higher Education Emergency Relief Fund (HEERF) through the U.S. Department of Education, Gabriela received $625 distributed by Harper, which she used to get broadband internet at home.
Harper College received a grant of slightly more than $2.7 million from the Act, which was promptly distributed directly to students who were impacted by the disruption caused by the switch to online learning. Harper identified about 4,400 eligible spring 2020 students based on federal criteria provided in April.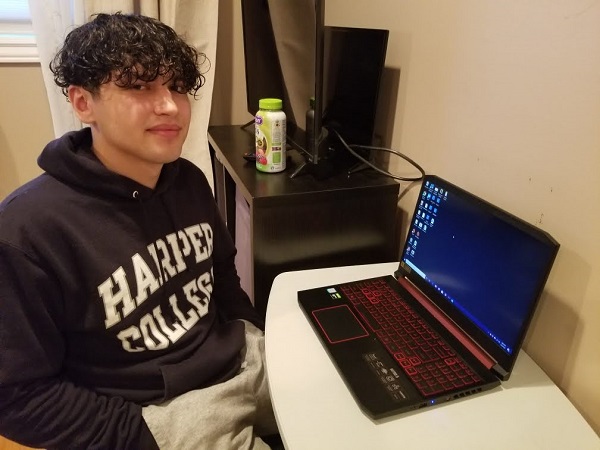 Angelo Sands, 20, of Prospect Heights, also found himself in a precarious position when the COVID-19 response forced him to complete his associate degree from home. Angelo, who was taking classes at Harper, and his brother, who came home to finish his final semester at the University of Illinois at Chicago, were vying to use one computer in the house.
"My mom, dad, brother and I were all using the same computer," Angelo said. "I finally broke down and bought a laptop. The money I received from the CARES Act is 100% helpful. It is helping me pay off the credit card I used to pay for the computer."
Angelo was able to successfully complete his spring courses and graduated from Harper in May. He is planning to attend Elmhurst College in the fall to pursue a bachelor's degree in English. Gabriela is taking an online course this summer at Harper and will be taking two more classes in the fall to complete her associate degree.
Harper College received an additional $2.7 million from the CARES Act to be used for institutional resources related to expanding remote learning programs, building IT capacity to support remote learning, training faculty and staff to operate effectively in a remote learning environment, and student needs.
To help support students not eligible to receive the federal CARES Act funding, Harper also established an emergency relief fund that has awarded more than $240,000 to about 550 students.