Harper's Speech and Debate Team excelling in online competitions
Harper's Speech and Debate Team excelling in online competitions

Harper College News Bureau

November 18, 2020

November 18, 2020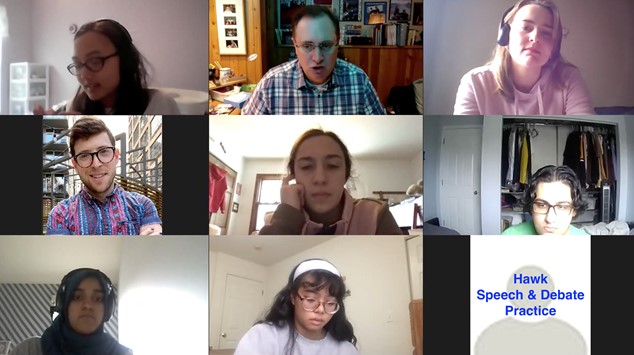 In March 2020, the Harper College Speech and Debate Team returned home from the state tournament with two state championships and a third-place overall finish. The Hawks were poised for success at regional and national tournaments when COVID-19 hit and brought the season to a screeching halt.
As national leaders scrambled to reinvent tournaments and deliver them in an online format, the Harper Hawks spent the summer regrouping. In addition to writing new speeches, students learned how to set up at-home speaking backgrounds. Setting, internet speed, lighting and sound all became factors as the speakers refined not only their communication skills but their technical skills. Tournaments would now be online, and speakers would be delivering their presentations from their bedrooms and basements.
Fast forward to November. The team holds online meetings and coaching appointments are conducted through Zoom. Performances are delivered into an iPad using ring lights to race rhetoric across the information superhighway to judges in the Brady Bunch-style boxes that have become familiar to us all.
The team has competed in three online tournaments to date, and the Hawks have adapted to this new world without missing a beat. Of individual speech performances, 90% have earned a tournament medal. The team has finished as the overall silver medalist at each competition.
At a tournament hosted November 13-14 by Prairie State College, student Cosette Gutierrez received a gold medal in informative speaking for her speech on how coronavirus is changing the way we grieve.
Coaches Jeff Przybylo, Margaret Bilos and Bill Lucio have continually been impressed by their students' ability to pivot to this new form of competition.
"Sitting in front of a computer all day and performing takes a great deal of energy and concentration," Bilos said. "I couldn't be prouder of how these students have handled this unique situation."
The team includes students Arij Ahmed, Sania Ali, Soban Asad, Cosette Gutierrez, Minhal Jamail, Shannon Johnson-Cadle, Ruth Lim, Maria Luca, Keely McEnery, Amiyah Moore and Paula Solarska.