Harper launches new drone technology program
Harper launches new drone technology program

Harper College News Bureau

December 2, 2020

December 2, 2020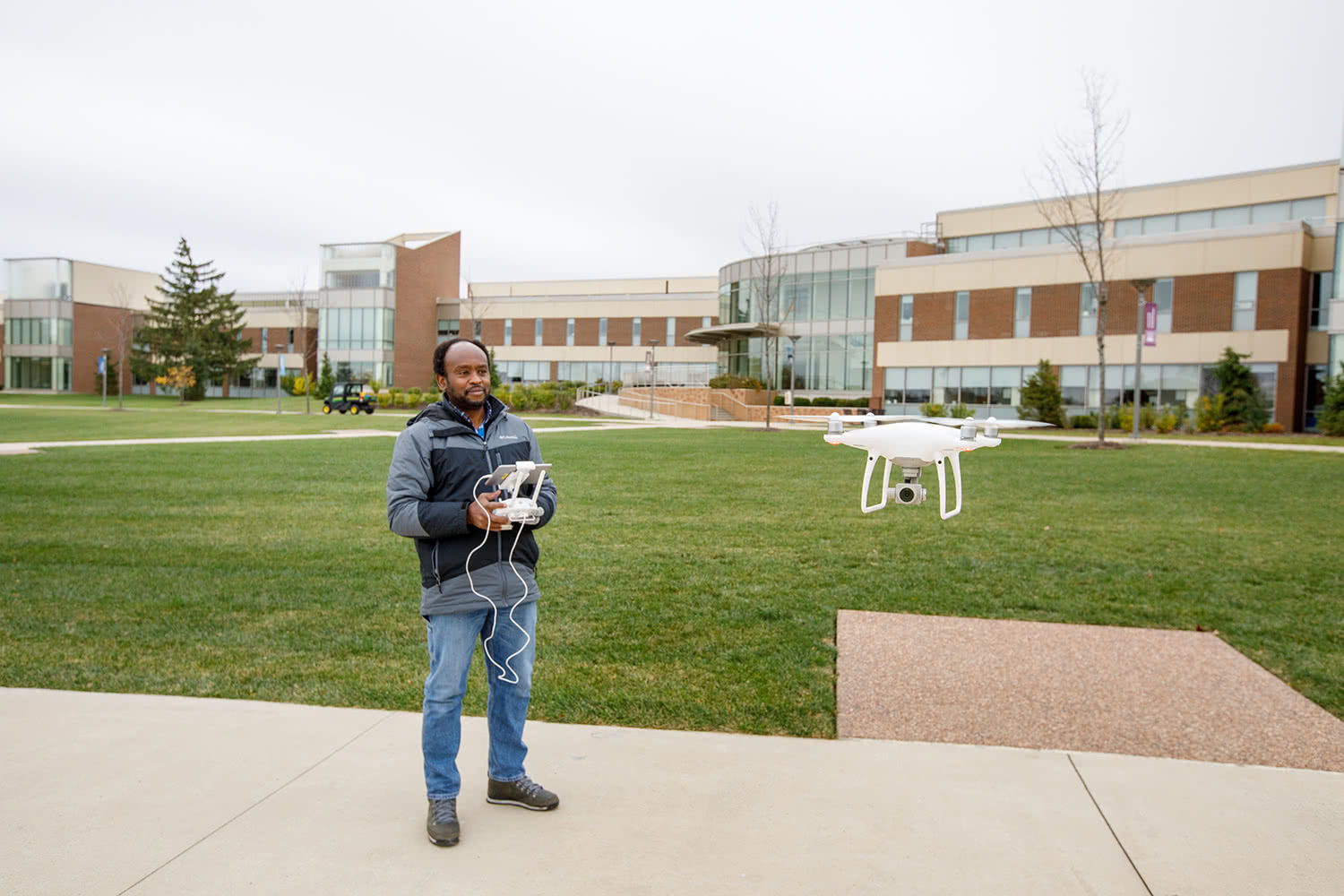 Harper College is launching a new Drone Technology and Applications certificate program in the spring 2021 semester that will help prepare traditional students, career professionals and enthusiasts alike for a growing industry and increasingly diversified job opportunities.
Drone popularity is surging nationwide, with some projections pointing to a tenfold increase in the industry's value over the next decade, Associate Professor Mukila Maitha said. Drone technology is being used in fields as diverse as agriculture, utilities inspection, public safety, search and rescue, mapping and surveying, insurance, mining, real estate, and cinematography.
Harper's certificate program (see video) will begin with a class to prepare students for the Federal Aviation Administration's drone pilot exam. Maitha expects the class to draw both students interested in the program and hobbyist drone flyers who want their Remote Pilot Certificate, a requirement to fly for commercial purposes. Additional classes will cover how to operate the drone and use it in a work environment, pre- and post-flight checks, how to read weather reports, various airborne maneuvers, digital photography and geographic information systems.
"In terms of career options, it's quite broad," Maitha said, including those who want to work in remote sensing analysis, aerial imagery, journalism, photography, real estate, insurance and advertising. "I have one civil engineer who wants to join because he uses aerial imagery in his work."
Drones are provided to students, who will learn to fly both multirotor drones (ideal for short usage and aerial photography) and fixed-wing drones (better for long distances). After the program, when students might have a better handle on where they want to specialize, they will receive recommendations based on their budgets about which drone to purchase and where to fly.
Students who earn their certificate could go on to a bachelor's degree program in geographic information systems or aviation. More four-year degrees are emerging in unmanned aerial systems, Maitha said; or graduates might move right into workplace, where pilots are often self-employed.
Maitha has been flying since 2014. He received his remote pilot license two years ago, working with remote imagery to create maps. He flies drones in his Introduction to Remote Sensing class and has used them as part of a study abroad program in Panama.
This program is ideal for curious students who are interested in new technologies, Maitha said.
"Because of the need to pay attention to regulations and safety, attention to detail is important, as well as the ability to understand and follow instructions and work in a team," Maitha said. "A drone pilot doesn't work in isolation in the workplace."