Harper student epitomizes perseverance throughout pandemic
Harper student epitomizes perseverance throughout pandemic

Harper College News Bureau

January 27, 2021

January 27, 2021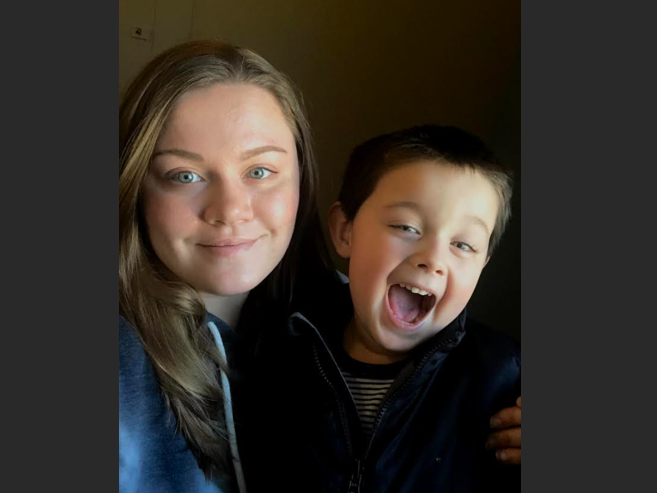 Harper College student Katie Ruiz has been the epitome of perseverance throughout the COVID-19 pandemic.
In March 2020, Katie was hospitalized for an illness but managed to stay on top of her assignments with the help of her faculty. Then, like millions of Americans, both she and her husband, Jorge, who also attends Harper, were laid off from the chocolate company they worked at in Lake County.
They've faced a series of challenges ever since to make ends meet and support their 4-year-old son, Dante.
"We definitely struggled for a few months to get our bearings," Katie, 25, of Barrington, said.
When it came time to enroll for the fall semester, Katie didn't want to lose momentum. She applied for a Finish Line Grant, which Harper established for students who are nearing completion and have run into an unexpected financial hardship that may keep them from finishing their degree or certificate. Katie was awarded a $1,000 grant that helped her family with housing expenses and allowed her to focus on school.
"We didn't have to worry about our rent and that relieved such a huge financial burden," Katie said. "It kept me plugged into my classes."
She's hopeful for the future. Despite all the additional stress, Katie has maintained a 4.0 GPA and will graduate from Harper this semester with an Associate of Science degree. She plans on transferring to a four-year college and recently began applying to a variety of schools. She'll study biomedical science and aspires to go to medical school to become a psychiatrist. Both she and Jorge were also hired back part-time at their jobs.
While she misses being on campus and acknowledges online learning presents challenges, Katie continues to take advantage of Harper's services virtually including the tutoring and writing centers. She's also grateful to faculty "who go the extra mile" such as Associate Professor Tong Cheng, whose helpful teaching style during Fundamentals of Cellular Biology helped to instill additional confidence in Katie.
"Learning in this online environment and trying to manage everything has been difficult, but I'm so grateful for all the support I've gotten from Harper," Katie said. "The help I've received and the resources I can turn to are getting me through this."