Harper Paralegal Studies students awarded Honorable Timothy C. Evans Scholarships
Harper Paralegal Studies students awarded Honorable Timothy C. Evans Scholarships

Harper College News Bureau

June 1, 2021

June 1, 2021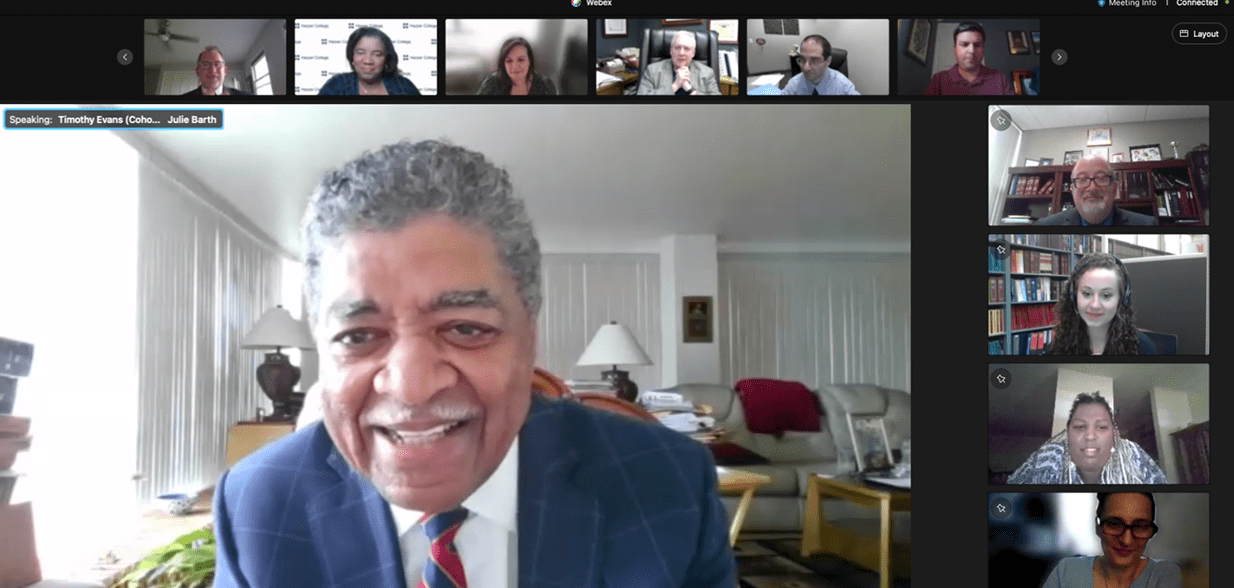 Two Harper College students have received the Honorable Timothy C. Evans Scholarship for Paralegal Studies.
Evans, who has served as chief judge of the Circuit Court of Cook County for nearly two decades, recently presented the scholarships to Mia Omalley and Chaltu Spray at the Northwest Suburban Bar Association's annual meeting, hosted virtually in partnership with Harper.
Before awarding the scholarships, which are sponsored by the NWSBA and Newland and Newland LLP, Evans spoke about the hardships each paralegal studies student has endured as well as the heart they continue to show in their coursework. He discussed how, after years of self-doubt and living paycheck to paycheck, Mia was able to prove herself to be a scholar through her studies at Harper. With the assistance of this $1,550 scholarship, she is set to graduate with an Associate of Applied Science degree this fall.
"This is a marvelous, marvelous success story and I am happy to know that she now believes in herself," Judge Evans said. "As I award this scholarship to her, let me ask you as you applaud her to applaud Harper College, who put her on the right track, who let her know how great she is and how great her potential is."
Judge Evans also acknowledged Chaltu's difficult road to academic success, which included the death of loved ones, a cancer diagnosis in her family and financial resources that were drained by the pandemic. With her $1,550 scholarship, Chaltu will be able to complete the remaining credits required for her certificate in paralegal studies.
Quoting from Chaltu's scholarship application, Judge Evans said he was inspired by her poetic choice of words: "Once she gets the scholarship and receives her certificate, she says, 'I will be able to be the change I want to see in this world.' You know she is going to do well."
Following the awards presentation, Dr. Avis Proctor, president of Harper College, underscored Mia and Chaltu's hard work and discussed how Harper and its partners create opportunities for talented individuals.
"I want to congratulate both Mia and Chaltu. They embody the resilience that we all need as we navigate this pandemic," she said. "Your success stories will be an inspiration to so many others."
Dr. Proctor also highlighted the longevity of Harper's paralegal studies program as well as the importance of relationships between the college and area organizations such as the NWSBA.
"We are approaching 50 years of impact in the paralegal studies world," she said. "We have the oldest American Bar Association-approved paralegal studies program in the Chicago area. That is a point of pride that we hold dear. We know it's critical for us to continue to cultivate partnerships with area employers and organizations such as yours."
Other Harper representatives briefly spoke of the many ways the NWSBA and its members collaborate with Harper. These include volunteering via the One Million Degrees program, using the Hire a Hawk online job portal and working within an initiative created by attorney and NWSBA Secretary Stephanie Garces-Donat in which attorneys conduct mock interviews with students enrolled in the paralegal studies capstone courses.
"We at Harper understand the diversity of our students and the diversity of their needs," said Dr. MaryAnn Janosik, Harper provost. "So we thank all of you because you have helped [put] so many of our students … on a path they might not have thought possible. We celebrate the accomplishments of our students, and we look forward to how they will make the world a better place."
Judge Jill C. Marisie, presiding judge of the 3rd Municipal District for the Circuit Court of Cook County, encouraged others to join her in working with Harper's OMD program, while attorney Stephen Daday spoke glowingly about employing alumni from Harper's paralegal studies program. Outgoing NWSBA President Gary Newland (whose Newland & Newland firm donated matching funds to sponsor one of the two scholarships given to Harper students this year) spoke about his personal connection to the college.
"I used to go to Harper. To think that I was a student there and now I'm participating in such an event with Harper…," Newland said. "We are honored to share this event with Harper College, as your paralegal program is an important labor source for our legal community."