Harper alumna excited to compete at Tokyo Olympics
Harper alumna excited to compete at Tokyo Olympics

Harper College News Bureau

July 21, 2021

July 21, 2021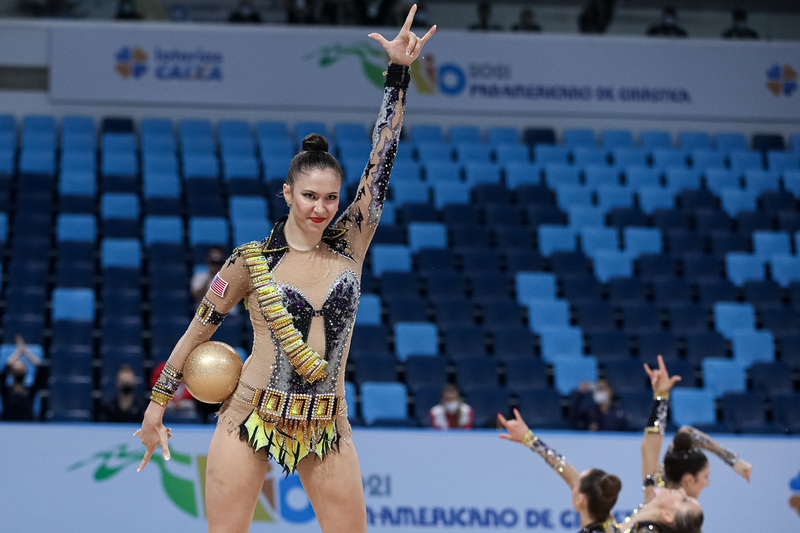 Ten years ago Elizaveta "Liza" Pletneva was a 9-year-old with a passion – and a supreme talent – for gymnastics. Because she had just participated in the National Rhythmic Gymnastics Championships, Liza was interviewed by a local journalist.
The reporter asked her if she thought she might be competing in the distant 2020 Summer Olympic Games. The third grader didn't miss a beat.
"No," Liza said. "I know I will make it."
A decade later, Liza's goal became a reality when she and her teammates in the U.S. Senior National Group qualified for the Olympics in Tokyo (delayed to 2021 due to the COVID-19 pandemic). When the Harper College alumna takes the floor on Aug. 7 at the Ariake Gymnastics Center, it will be the culmination of 15 years of twice-daily practices, late-night homework sessions and steady perseverance.
"I refused to let myself believe that I wouldn't make it. I just kept working," Liza said from Tel Aviv, where she and the team have been training before flying to Japan. "I don't know how my younger self was so strong-headed to walk around and say that to people. Because I told everyone from the age of, like, 5 that I would go to the Olympics."
Tokyo Summer Olympics: Rhythmic Gymnastics
Group All-Around Qualification
What: The U.S. Senior National Group (including Harper College alumna Liza Pletneva) will compete with groups from 13 other nations.
When: 8 p.m. (round one) and 9:30 p.m. (round two) Friday, Aug. 6. Time and date are in CDT (the event will take place the morning of Aug. 7 in Tokyo).
Where to watch: Full event streamed live on nbcolympics.com. Portions shown live on USA cable network and replayed on other NBC Olympics affiliates.
All 14 groups will compete during the first two rounds. The groups with the top eight scores will compete for medals during the final day of competition (9 p.m. Saturday, Aug. 7, CDT).
Like many Olympic gymnasts, Liza's athletic journey began early – around age 5 – when she started at Liberty Academy of Rhythmic Gymnastics in northern New Jersey, near where she and her family were living. Two years earlier, they had emigrated to the U.S. from St. Petersburg, Russia, where Liza was born in 2002.
"My family being Russian, rhythmic gymnastics is a really big sport in Russia, so we kind of always knew about it," said Liza, remembering that her mother gave her the opportunity to try all sorts of activities. "I just found it fun. I enjoyed the stretching and playing with the hoops and ribbons. Once I started getting a little older, I didn't want to do anything else. It became a part of me."
For those who don't know, rhythmic gymnastics is different from artistic gymnastics, which is the better-known form in the U.S. (and what Simone Biles competes in). Liza explains that the rhythmic version is a combination of gymnastics and dance, involving interaction with different apparatuses that include ropes, hoops, balls, clubs and ribbons. Manipulations and tosses of these items are central to the sport, as opposed to flips. Rhythmic gymnasts complete a variety of two-and-a-half-minute routines coordinated to musical soundtracks.
"It's definitely a lot more elegant. Being on the music, all the sharp accents, expression that matches the music – all of that is a big part of rhythmic gymnastics and how the entire composition comes together," Liza said. "It's also a sport that's very elegant, so it's our job to not show how hard it is. Catching things with your feet is pretty hard, so it's just a different level of difficulty."
Liza emphasized the differences between the types while expressing admiration for artistic gymnasts and Biles in particular ("I got to see her live and it was just jaw-dropping").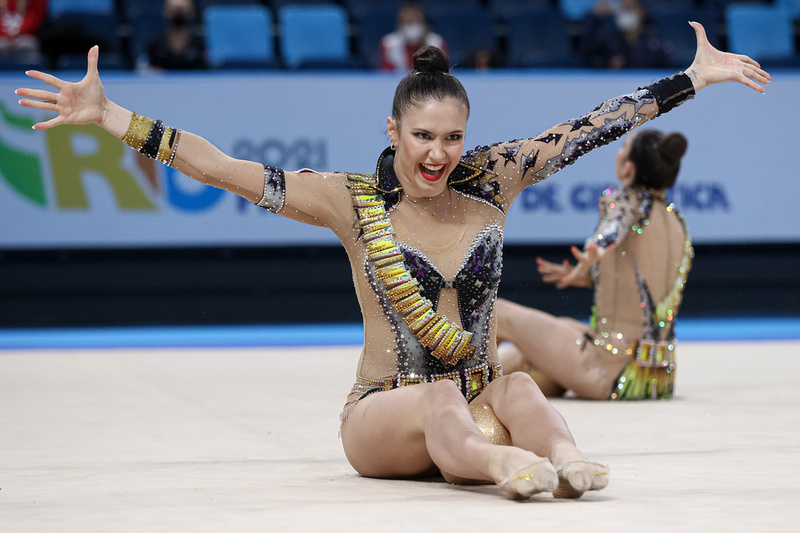 But before Liza was part of the same USA Gymnastics Olympics delegation as Biles, she practiced steadily with her coach Nataliya Greenberg and worked her way from local to regional to national junior competitions. Over time, she shifted from competing individually to being part of a group, in which five gymnasts compete with multiple hoops, balls, etc. She continued to become more prominent in the sport and became part of the U.S. national group in 2017.
The only hitch was that the group is centered at North Shore Rhythmic Gymnastics Center in Deerfield/Glenview. Liza, then in high school, needed to move to the Chicago suburbs to work with the other group members.
It wasn't easy for her family, but Liza said they made it work. Her parents moved with her and her dad commuted back and forth to his job in New York (staying with her adult brother during the week). Liza went to Deerfield High School and an online school, orchestrating her schedule around extensive practices and traveling to competitions.
The sacrifices and the move paid off. The U.S. Senior National Group had a great run in 2019, including a best-ever placement at the world championships. They were in an excellent position to qualify for the 2020 Olympics.
And then everything changed: COVID-19, lockdown restrictions and the postponement of the Tokyo games.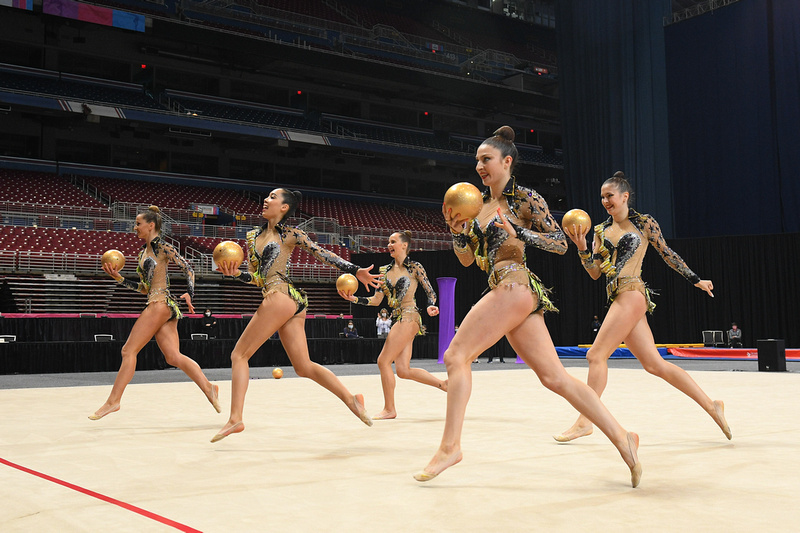 "We were a couple months away. I was stressed, scared, worried, because we had a couple of girls talking about retirement," Liza recalled. "We thought our team would fall apart and we wouldn't have a team, physically, to compete this season."
To complicate matters, Liza's parents had already begun the process of moving back to New Jersey – the plan being that they would all be back there following the 2020 Olympics. But Liza decided to stay in Illinois – a new high school graduate with her own apartment. This group of athletes also decided to give it one more year.
"For me, it wasn't a question to stay. We knew we'd get to still be together one more year and do the sport that we loved," Liza said. "I think we all grew as people. We knew we were here together. That's nice about competing as a group, rather than as an individual: You always have someone to turn to."
Liza also turned to her education. She had been planning a gap year to recover physically and mentally, but decided to make use of the extra year before the Olympics to stay on track with her studies. While living in Wheeling and practicing at North Shore, she enrolled at Harper.
"I didn't have high school anymore. I didn't have anything outside of the gym. I figured, since classes were online, I might as well take advantage of this year and complete my freshman year," Liza said. "I enrolled in my first semester at Harper and I was able to do all of my classes online. It worked out really well."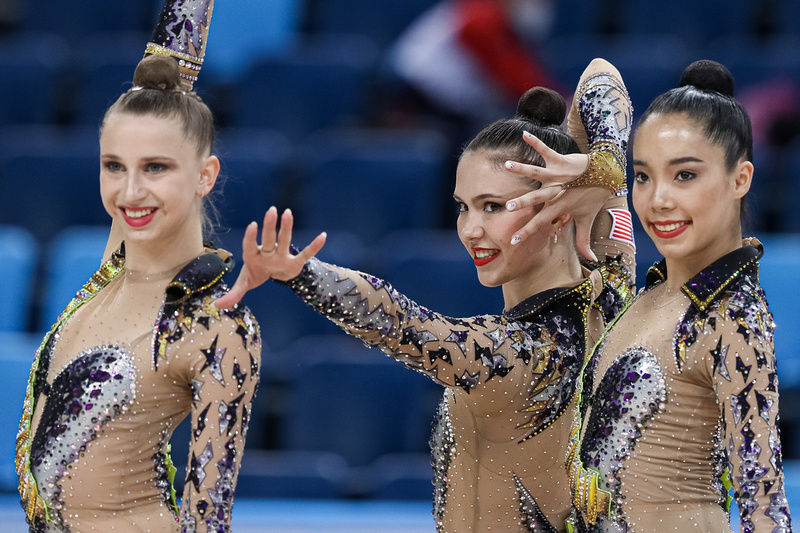 She liked both the flexibility of an asynchronous schedule, which allowed her to fit her studies around her training, and connecting with professors and fellow students. Liza said she most enjoyed her psychology course and also formed a connection with Kristin Cushing, who taught her First Year Seminar course.
"She was mature and very poised," said Cushing, discussing about her first impression of her student. "The discipline that she learned from her practice schedule translated into academics very well. It helped her as a student."
Because the 2021 competition season was delayed by the pandemic, Liza was able to finish her freshman year courses at Harper. She completed her spring classes while she and the team were in Baku, Azerbaijan for a competition.
A Harper student doing coursework in Azerbaijan "might be a first," laughed Liza.
In June, during a competition in Brazil, Liza and the group found out they had qualified for the Tokyo games. Liza and her teammates shared their excitement in photos, videos and posts on social media. Cushing, who had kept in touch with Liza via email, found out firsthand.
"She emailed me the day they qualified, and I was so touched," Cushing said. "It speaks to who Liza is. She has joy in her that she is able to share."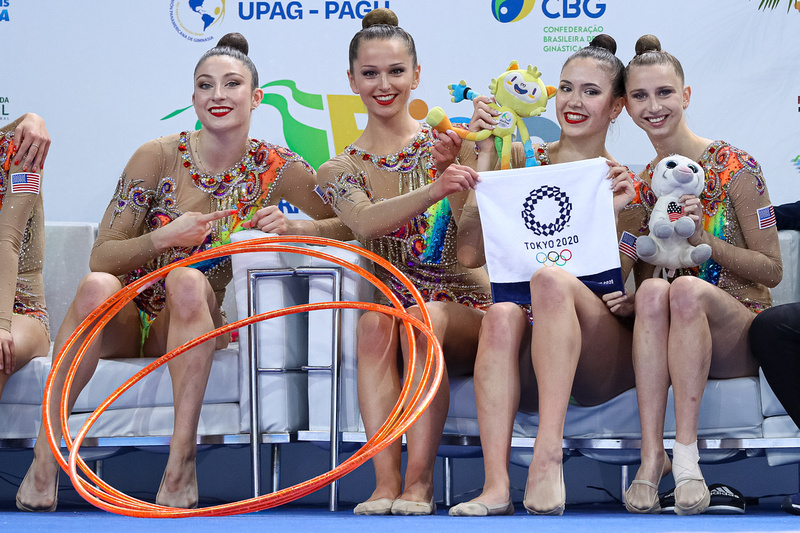 Indeed, that joy is palpable in interactions with Liza or through watching her and the group compete. She said that her teammates aren't only elated about this opportunity to represent their country, they're thrilled that this will be the first year the U.S. qualified for the maximum number of spots, including two individuals (Laura Zeng, of Libertyville, and Evita Griskenas, of Orland Park) and the group (Liza plus Isabelle Connor of Manhattan Beach, Calif.; Camilla Feeley of Wheeling; Lili Mizuno of Northbrook; Nicole Sladkov of Vernon Hills; and Yelyzaveta Merenzon of Buffalo Grove).
Only 14 groups in the world qualified for the Tokyo Games. Because the U.S. is one of them, is this a sign that rhythmic gymnastics is on the rise here?
Liza hopes so and wants to inspire and instruct future generations of gymnasts. After the Olympics, she plans to move back to New Jersey and work with girls at Liberty Academy alongside her first coach. She's set on taking a gap semester (at least) to recuperate, revel in being near her family and contemplate the next stages of a college education that launched at Harper.
Of course, right now, her focus is trained on the Tokyo Games and the rhythmic gymnastics group competition. Although Liza is bummed that the groups won't be competing before in-person crowds, she knows this experience will be special. She's eager to attend the closing ceremony with Team USA.
"I've been dreaming about it for so long," Liza said. "Everyone I've talked to who's competed in an Olympic Games just keeps telling us to enjoy every experience, from the moment we touch down in Tokyo to the village, to the dining hall, to the store, to the arena, to competing, to going to the ceremony. I can't pick just one thing I'm excited about!"
Images courtesy of USA Gymnastics. Video courtesy of FIG Rhythmic Gymnastic World Cup Series.