Second attempt at college a success for Harper College graduate
Second attempt at college a success for Harper College graduate

Harper College News Bureau

August 18, 2021

August 18, 2021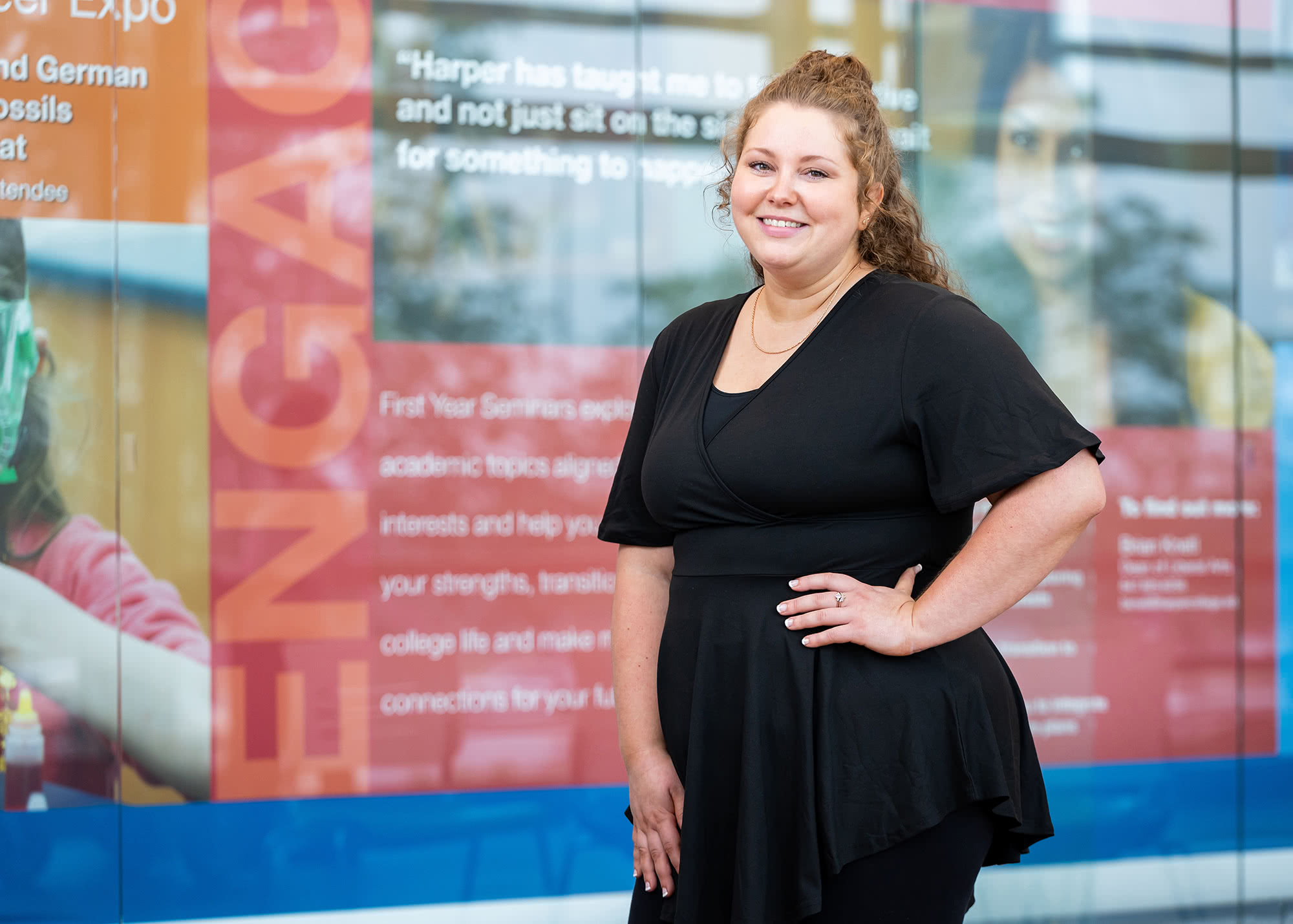 College didn't stick the first time for Kelsey Lewis. She wasn't particularly motivated to find direction or interested in her classes, and her grades reflected that.
The Lake Zurich resident left school after a year and, taking a cue from her entrepreneurial-minded family, started a pet care service. By her late 20s, things looked OK on paper – she had a business, a townhome, a fiancé – but Lewis' heart wasn't in it. Her career no longer satisfied her, the relationship wasn't particularly fulfilling, and she was suffering from a yet-to-be diagnosed autoimmune disorder.
"It was a low point," said Lewis, now 30 and a recent graduate of Harper College. "My engagement fell apart, I moved back in with my parents and I just knew it was time to do something different with my life. I was very aware of Harper's reputation and had talked to enough people about their good experience, so when I decided to go back to school, it had to be Harper."
Lewis figured she'd keep her head down and get in and out. As an incoming adult student, she felt intimidated and didn't anticipate connecting with anyone or engaging herself in the campus community.
Things didn't go according to plan, however.
When she arrived in spring 2019, Harper's faculty and staff quickly opened her eyes to what her college experience could be. Laurie Hoadley, her elementary statistics instructor, inspired Lewis as a woman in the STEM field and offered her mentorship. Assistant Professor Nellie Khalil fostered a creative learning environment and made a daylong trip to the Field Museum of Natural History one of the most memorable experiences of her life. Professor John Garcia helped Lewis explore post-Harper options and guided her through the college application process. The list goes on and on.
"I found a support system that helped me navigate not just my education, but my life," Lewis said. "These people all genuinely wanted to help me."
To her surprise, Lewis also connected with her classmates. She was amazed at the diversity of cultures, backgrounds and life experiences. One group of peers made sure to check in with each other daily at the height of the pandemic when classes switched to an online format.
Lewis joined the honors program, the Phi Theta Kappa honors society and graduated in May 2021 with a 4.0 GPA. She's headed to Loyola University, where she plans to pursue anthropology and minor in peace, justice and conflict studies. She sees herself pursuing a humanitarian or government position, or perhaps teaching.
She also benefited from Harper's financial support, receiving the Amersham Endowment Scholarship, the Finish Line Grant and emergency funds when the pandemic hit. The assistance helped Lewis prioritize school and commit to succeeding.
"I will look back on the past two years and see Harper as a turning point," Lewis said. "There aren't enough words to express my gratitude to everyone who helped me along the way."