Harper student reinventing herself via Career Exploration course, Igniting Paths scholarship
Harper student reinventing herself via Career Exploration course, Igniting Paths scholarship

Harper College News Bureau

September 9, 2021

September 9, 2021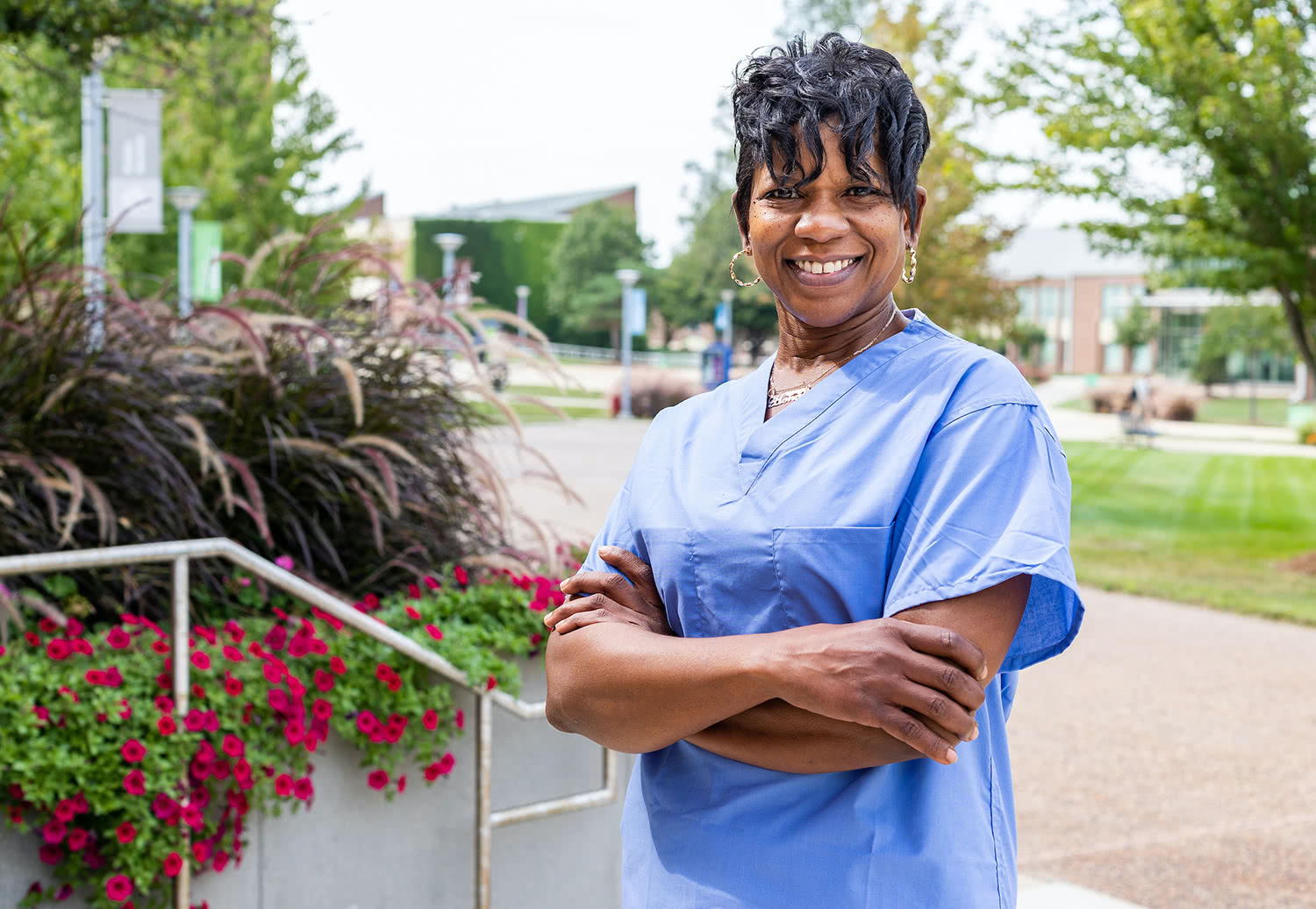 When she logged into her first Career Exploration session, Arnetta Walker wasn't sure what to expect.
She felt self-conscious about her age. She was 50 and had recently lost her job working with mentally and physically disabled adults and teenagers. It had been her job for the past 18 years. Arnetta felt like she was starting all over.
"I found myself faced with getting back out there and reinventing myself," Arnetta remembered. "I was scared."
She didn't know if Harper College was right for her, but she had become curious after seeing a Facebook post for the college's five-week, online Career Exploration course. When she received another notice about the free course, Arnetta thought she needed to look into it.
At the very least, the Schaumburg resident would walk away with a free Chromebook, given to each attendee. What did she have to lose?
So Arnetta signed up for the course – funded by a federal Perkins Grant to support career and technical education – and, feeling a little nervous, attended the first virtual session in April. She said she relaxed pretty quickly, the result of welcoming instruction from Alejandro Mendoza, Admissions Outreach manager, as well as seeing the variety of other folks on her screen who were seeking direction in their lives and careers.
"I thought, 'OK, I could probably do this,' because it was people like me, but of many different ages," Arnetta said. "I felt a little less intimidated when I saw other people here who haven't got it figured out. I'm not the only one who's this old and hasn't got it figured out!"
She said she enjoyed the course's thorough overview of Harper's programs as well as the reliable schedule of two-hour sessions every Wednesday. But, quickly, the experience became about more than just Arnetta's career choice.
"I got a lot from the class, but it was self-exploration along with career exploration," she said.
Although Arnetta had been thinking of switching the type of work she had done for almost two decades, a couple of factors proved that her calling was in a service-oriented field. A self-assessment, taken during the course, helped her begin to see that. A conversation with Mark McPherrin, Admissions Outreach specialist, confirmed it.
"He said, 'You're just such a calming person. You have a healthful spirit,'" Arnetta recalled. "He asked, 'Have you thought about phlebotomy?' I started looking at it… I remember when I used to take my residents to do blood draws. They always said that I comforted them. I made them think about something else. Well, I figured, I can comfort patients and draw their blood at the same time!"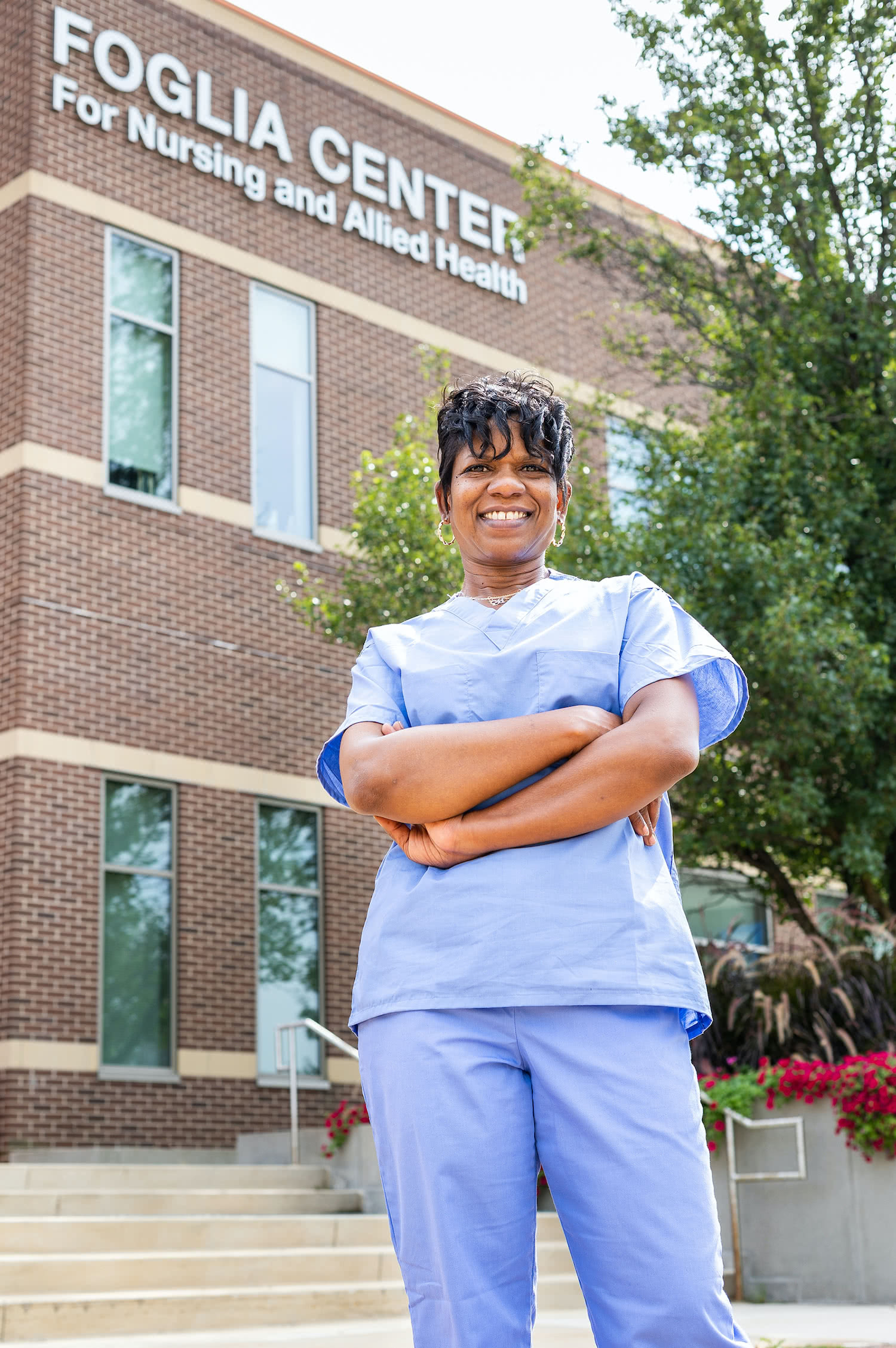 This fall, Arnetta has been taking her first two courses in Harper's Phlebotomy Certificate Program. Both are blended classes, with a mix of online and in-person instruction. She is set to earn her certificate after an internship in the spring semester. Arnetta said she's happy about being able to get the certificate in less than a year, as well as the opportunity to put her new Chromebook to use.
"And my entire ride is paid for!" she beamed. "I cannot praise Alejandro and Mark and Jenyl [Keeton, academic advisor] enough! They kept me going, saying, 'Just try for this scholarship. Try for this one.'"
Arnetta is one of the many recipients of the new Igniting Paths to Success Scholarship, made possible by a gift from philanthropist MacKenzie Scott. Harper designed the scholarship to empower students from underserved communities seeking to strengthen their skills, begin new careers and change their lives.
Without last spring's Career Exploration course, Arnetta might have never known these options were available. She wouldn't have realized that folks at Harper were eager to serve students like her.
"I wouldn't have enrolled. I didn't think I had the patience for school and I didn't think I had the money," she said. "In two semesters, I'll have my certificate."