Harper partners with SIU for new bachelor's degree pathways
Harper partners with SIU for new bachelor's degree pathways

Harper College News Bureau

October 5, 2021

October 5, 2021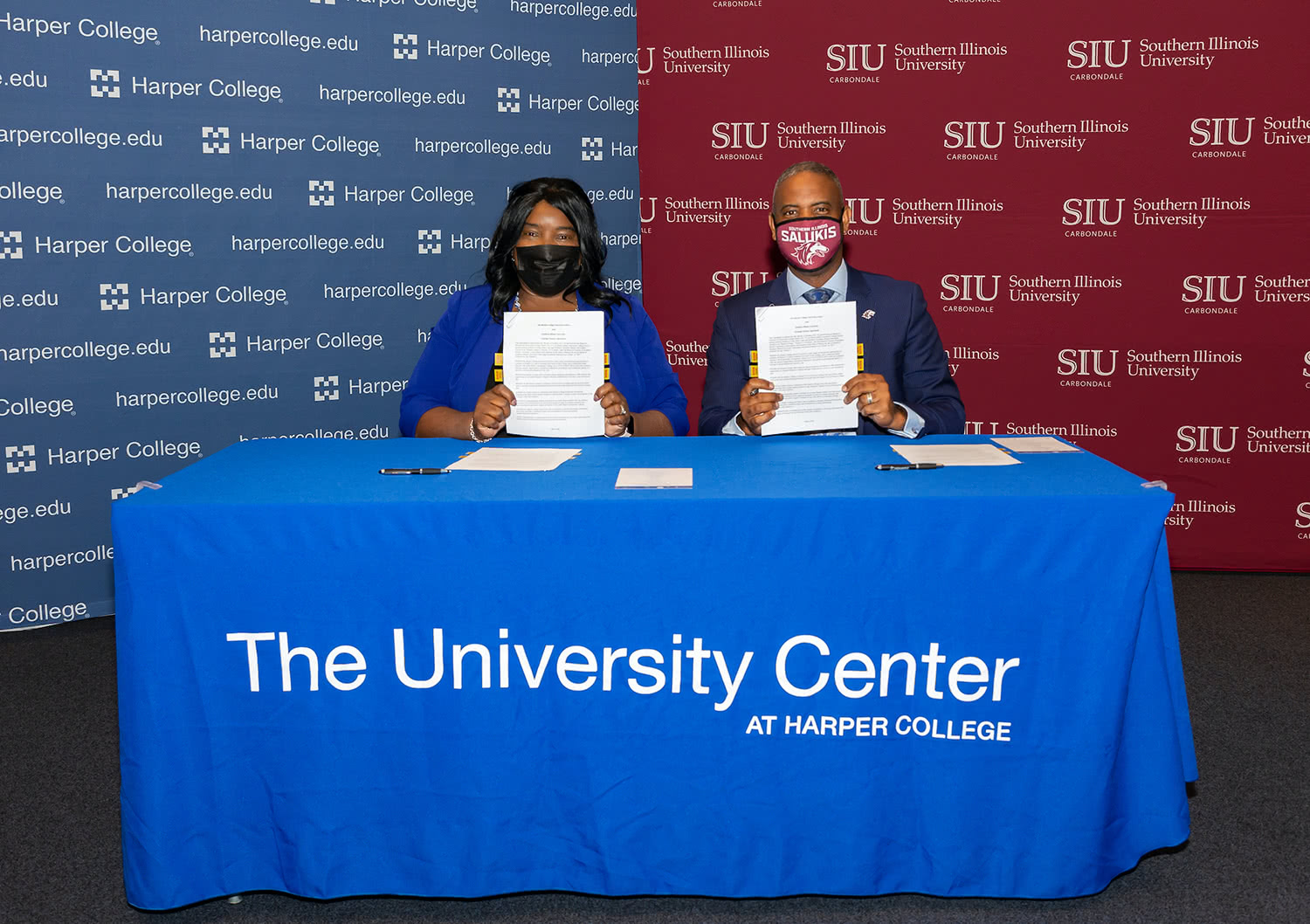 Harper College students can pursue a range of new bachelor's degree options because of a new partnership with Southern Illinois University.
On Tuesday, leaders from the Illinois institutions formally signed two agreements that provide students a valuable opportunity to earn a bachelor's degree close to home and graduate from SIU – either through the University Center at Harper College or online through the Saluki Step Ahead program.
"SIU Carbondale is committed to providing access and affordability and removing barriers for all students," said SIU Carbondale Chancellor Austin Lane. "We are proud of our beautiful campus and the first-rate education and unique opportunities Salukis receive. But we understand not all Chicago students can move to Carbondale to complete their education, so we will bring SIU Carbondale to the Windy City."
SIU is bringing its robust programs in accounting, paralegal studies and public safety management to the University Center on Harper's campus. Programs are taught by SIU faculty and offered in a blended learning environment, combining the flexibility of online learning with on-campus courses and resources.
The three SIU degree programs build on the success of the University Center, which also offers bachelor's degrees in partnership with DePaul University, Northern Illinois University and Roosevelt University.
"Since opening in 2018, the University Center at Harper College has been a game-changer for students and their families," said Harper College President Avis Proctor. "Enrollment has grown to more than 330 students. More than 50 students have successfully completed their program. And those numbers continue to climb each semester."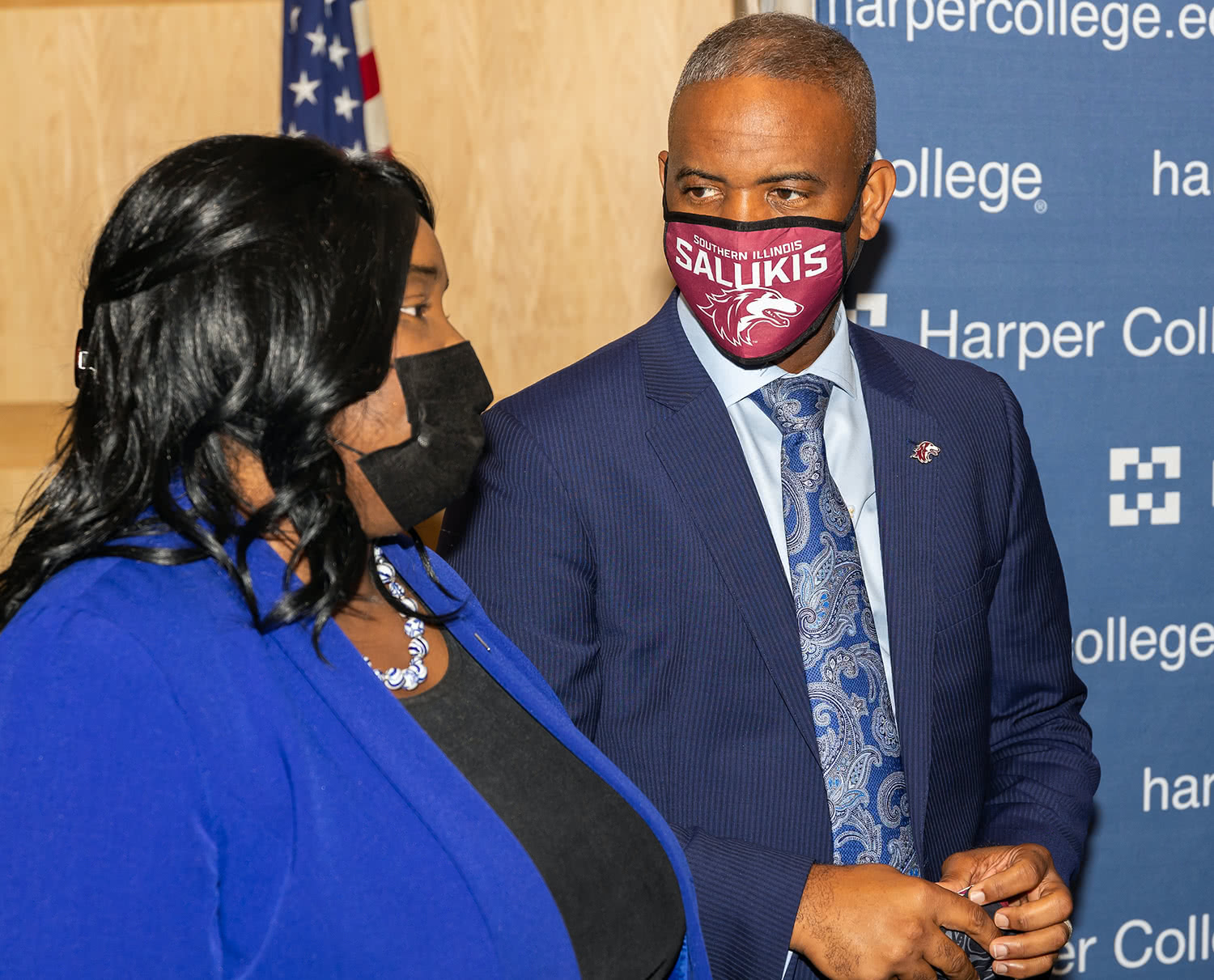 In addition to welcoming SIU to the University Center, Harper joined SIU's Saluki Step Ahead program, which allows qualified community college graduates to attend SIU Carbondale remotely to pursue bachelor's degrees in accounting, business and administration, criminology and criminal justice, health care management, psychology and radiologic sciences. Students in the program pay Harper's tuition rate for their first two years. In the third and fourth years, they receive an annual $4,000 scholarship. The goal is to allow them to earn their degree for $25,000 or less.
"We are glad to partner with Harper College to open more pathways to students who have limited options," Dr. Lane said. "Whether they take SIU Carbondale classes online or at the University Center, we will welcome them as Salukis. Today's agreement fits well with our Imagine strategic plan, whose pillars include improving student success and enhancing partnerships."
Dr. Proctor noted that SIU's pillars align with Harper's mission of lifting up its communities, highlighting the University Center as a gateway to not just bachelor's degrees, but career opportunities and solid paychecks.
"Partnering with SIU through the Saluki Step Ahead program and our University Center provides valuable new pathways to a bachelor's degree for students, particularly adult learners who may be managing jobs, families and other commitments," Dr. Proctor said. "These new ventures present a tremendous opportunity for students, families and, ultimately, our communities."