Ten Questions with Rob Holysz
Ten Questions with Rob Holysz

Communications

March 23, 2021

March 23, 2021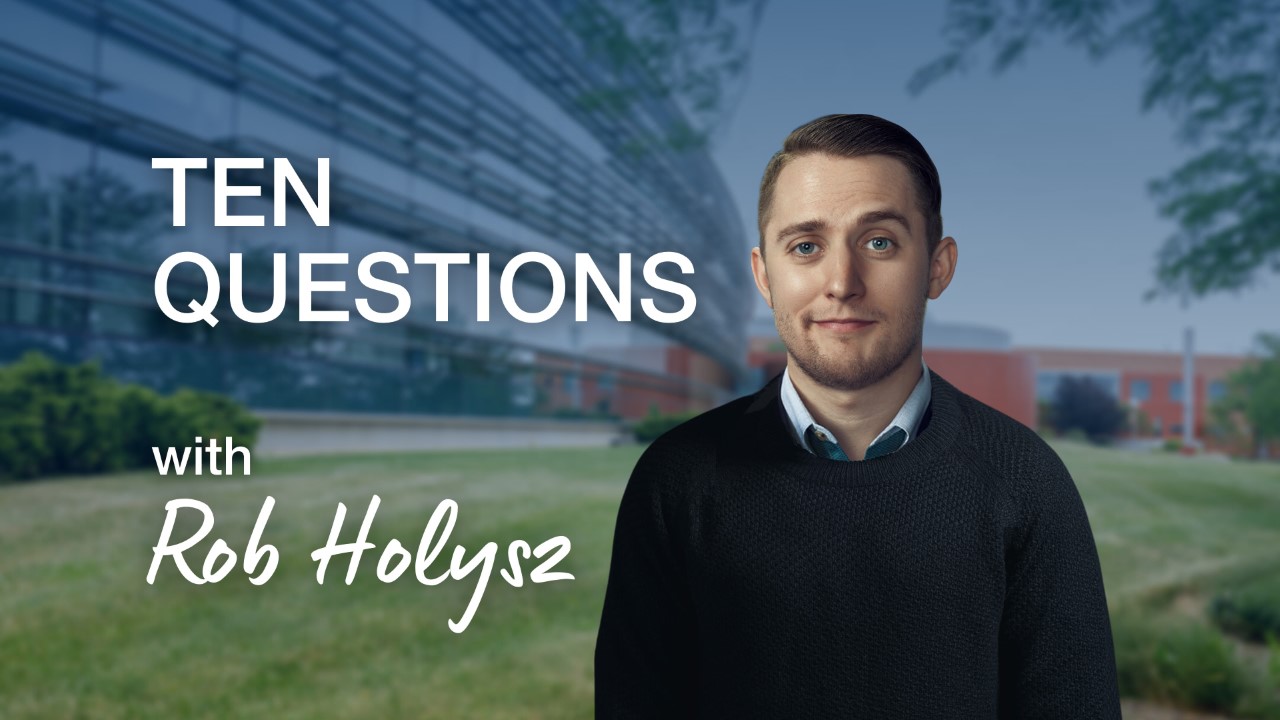 When Rob Holysz came to Harper College looking to fulfill a few general education credits, he never could have guessed where his education and career would take him. He has since graduated from the International Academy of Design and Technology with a bachelor's degree in Multimedia and Web Design, started a successful business offering web, photo and design services to clients such as Fall Out Boy, Wilco and the Plain White T's and moved to Los Angeles where he co-founded and produces the acclaimed podcast Armchair Expert with Dax Shepard. In addition, Holysz recently started a production company called Rabbit Grin Productions where he produces podcasts for the likes of Anna Faris, Mayim Bialik, Sean Hayes, Sophia Bush, Michael Rosenbaum and Debby Ryan. Known by his fans as "Wobby Wob," Rob remembers his time at Harper fondly and set aside time to answer these ten questions.
1). Describe your perfect day.
A day with friends and family, in a new place, where we can explore our environment (city or wilderness) and engage in conversation, good company and laughter.
2). Best advice you ever received?
Be smart enough to know how dumb you are, and have enough courage to carry on anyway.
3). What songs are essential to the Rob Holysz-curated playlist?
"Fake Plastic Trees" by Radiohead

"Kyoto" by Phoebe Bridgers

"Ain't No Easy Way" by Black Rebel Motorcycle Club

"Pulaski at Night" by Andrew Bird

"As I Lay My Head Down" by Other Lives

"Gethsemane" by Dry the River

"When Am I Gonna Lose You" by Local Natives
4). Last show you binged and loved?
Peaky Blinders.
5). What do you wonder about?
I wonder about way too many things to prioritize just one.
6). Early bird or night owl?
Both.
7). What would your loved ones say is your best quality?
That I don't take myself too seriously and can find humor in most situations.
8). If you could make a documentary on any topic, what would it be?
I'd make a documentary that features all the best restaurants around the world, so I would have an excuse to travel and indulge myself at all of them.
9). What are you hopeful for?
The empathy of younger generations and the positive changes they can make.
10). What's something you loved about your time at Harper?
The wide range of course offerings and the great instructors. And how easy it was to find parking for class.