Ten Questions with U.S. Senator Tammy Duckworth
Ten Questions with U.S. Senator Tammy Duckworth

Communications

May 19, 2022

May 19, 2022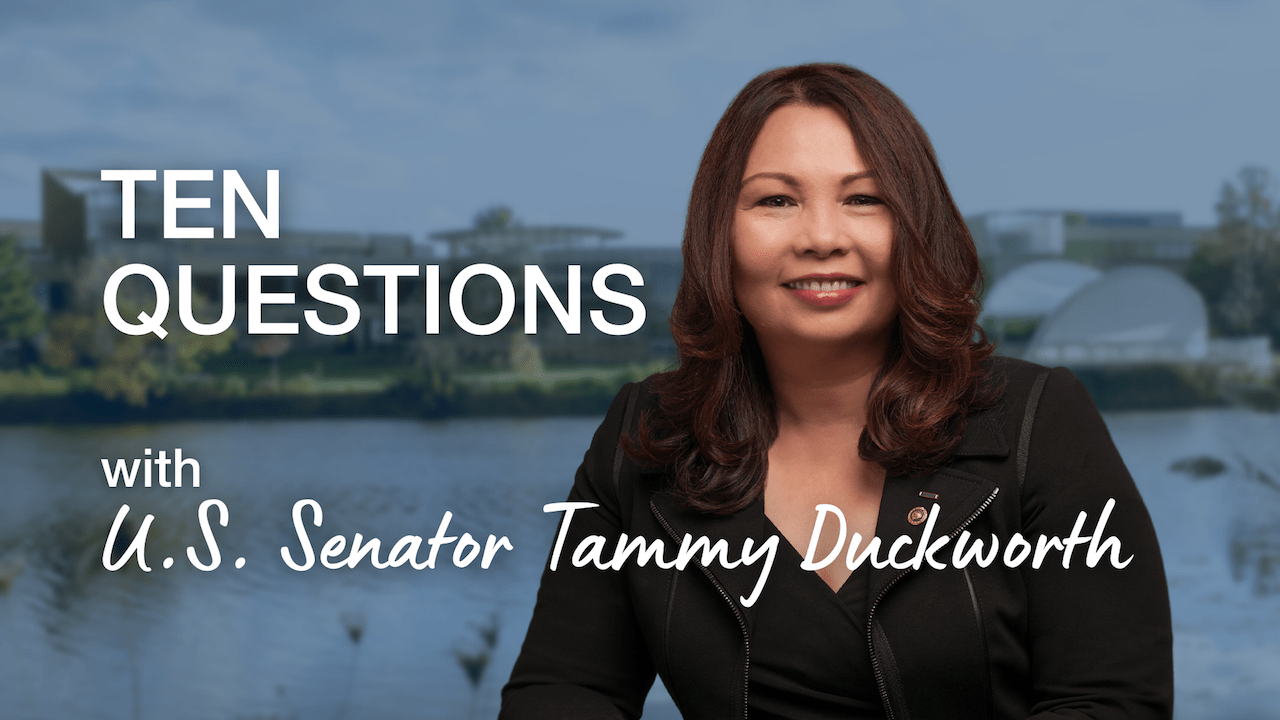 Mother. Wife. United States Senator. Iraq War Veteran. Purple Heart recipient. Former Assistant Secretary of the U.S. Department of Veterans Affairs.
U.S. Senator Tammy Duckworth wears a lot of hats, and this year she'll be able to add another to the list: 2022 Harper College Commencement Speaker.
Between her military and political service, to her advocacy for education and community colleges, Harper College couldn't be more thrilled to welcome Senator Duckworth. But when asked what her proudest achievement is, the answer was simple: her daughters. Here are ten questions with U.S. Senator Tammy Duckworth.
1. Describe your perfect day.
My perfect day would be one spent with my daughters doing something that they really enjoy, like going to the beach, doing a craft project in the garden, or having a tea party picnic. Just spending the day with my girls.
2. Who was your role model growing up?
When I was younger I was a Girl Scout and I always looked up to my troop leaders. They were the ones showing us how to be independent young girls, and teaching us all sorts of great skills like camping and building fires.
3. What songs are essential to the Senator Tammy Duckworth-curated playlist?
Right now because of my daughters, the only song on my playlist is "We Don't Talk About Bruno" from "Encanto."
4. What is your all-time favorite movie and why?
These days in my house, kids movies dominate what we watch. But I really love watching "Moana" with my girls because she's a strong Pacific Islander girl who's independent and rescues herself.
5. Of which personal achievement are you most proud?
My two girls, and hopefully being a good mom to them.
6. What is something people often get wrong about you?
That I'm an introvert. And despite my position, I don't love being the center of attention.
7. What do you wonder about?
I often think about if I'll be able to help solve a lot of the climate crisis issues before my girls are adults.
8. What's a color you gravitate toward?
Pink.
9. If you could go back and tell 13-year-old Tammy one thing, what would it be?
Don't be afraid to fail. When I was younger I always equated my worth with failing – if I didn't get an A or if I wasn't the fastest runner, I felt that made me less than. But it's not true.
10. What are you hopeful for?
That we'll be able to get to a carbon neutral future before my girls are adults.