Harper Professor Stephanie Whalen Honored for Innovation by AACC
Harper Professor Stephanie Whalen Honored for Innovation by American Association of Community Colleges

Harper College News Bureau

May 3, 2022

May 3, 2022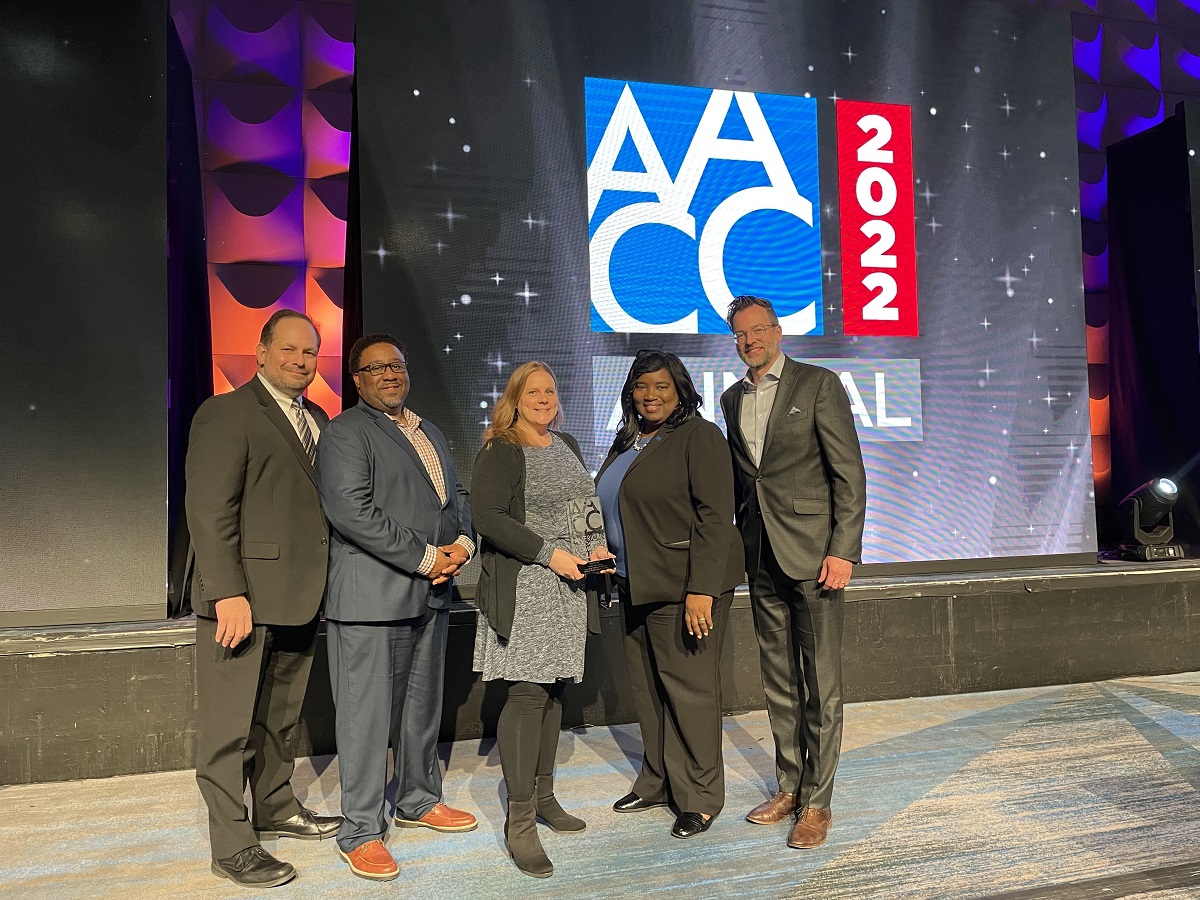 The moment that Dr. Stephanie Whalen begins discussing being honored by the American Association of Community Colleges is the moment that she starts naming all of the people, both inside and outside of Harper College, with whom she collaborates.
Even after being named a Faculty Innovation Award finalist for AACC's 2022 Awards of Excellence, it's unsurprising that the English and interdisciplinary studies professor would want to share the spotlight. As the chair of Harper's Academy for Teaching Excellence, Whalen (center in the photo above with, from left, Rob Galick, executive vice president of finance and administrative services; Dr. Travaris Harris, interim associate provost for academics; Dr. Avis Proctor, Harper president; and Jeff Julian, chief of staff) looks to help her fellow educators challenge themselves to find more ways to engage and support students in their educational journeys. She continues to pour her energies into a variety of projects designed to close student equity gaps at the college (and across Harper's NECSS district), including the Teaching for Equity Community of Practice, Equity Literacy Project and Equity Teaching Academy.
"What I want to emphasize is that this has been a huge team effort," Whalen said, naming countless Harper leaders and colleagues as well as partners from sender high school districts and four-year universities. "There are definitely more people who have touched these projects and programs than anything we've done. And we couldn't do any of it without the support of the Academy team."
She also highlighted the diversity of identity represented in these collaborations, which she views as critical to the success of equity work in education. Whalen said that the partnership with local leaders such as Tony Bradburn, director of diversity, equity and inclusion in District 214, has dramatically enriched and accelerated the work. In addition, the facilitation and mentoring of equity leaders throughout the region, such as Dr. Joseph Flynn from Northern Illinois University and Dr. Pamela Hoff from Illinois State University, have provided the benefit of decades of experience advancing culturally relevant pedagogies and practices. Dr. Flynn has described Whalen as not merely an ally, but an accomplice.
"Allies are just on the sidelines, cheering," Whalen said. "All the people involved in these projects are accomplices, deeply involved in every step. Each individual involved is a leader in some way."
It's also a group that has produced results. Survey data shows that, for the fall 2021 semester, 94% of English 101 and 102 students who were in classes with faculty participating in the Teaching for Equity work perceived their learning experience as more relevant to their interests or what they care about compared to 75% of students in courses taught by faculty not involved in the programs. Similarly, 90% of the former group described satisfaction with their overall course experience, compared to 70% in the latter group. This promising data was from the small group doing the initial course redesign work around equity pedagogies to create models to build upon.
It was this focus on improving student experiences and success outcomes, coupled with Whalen's passion for this work, that prompted Harper President Avis Proctor and other college leaders to nominate the professor for the AACC Faculty Innovation Award.
"She has contributed significantly to the growth and development of the college's full- and part-time faculty, building innovative programming and professional development that have enhanced the college's focus on equitable, inclusive teaching practices," Dr. Proctor said. "I strongly believe Dr. Whalen's leadership and scholarship are directly addressing Harper's goals of closing equity gaps and removing barriers through focused solutions."
As Dr. Proctor indicated, Whalen is most interested in the ongoing work and its implications for the future. After all, the Redesign for Equity course – the third component of the Equity Teaching Academy – launched earlier this semester, with instructors planning to look at data-informed methods to redesign their courses based on equity pedagogies.
"We're going to have some great information from having done these redesigns, with faculty, student feedback and student success data," Whalen said. "It's going to be exciting as we are able to put all of it into action."
Reflecting on the AACC honor, the professor tied her pride in such recognition to qualities she learned about herself as a student-athlete: coachability and spirit. She applies both as part of the teams that are working on these equity projects.
"I'm proud that we took coaching and created something that truly embodies not only the strategic priorities of our institution but what leaders of our national networks are saying in terms of building programs that are scalable," Whalen said. "And we have the spirit and the heart to get it done and get it done well."