Runway Ready: Fashion Design students excited to show their collections
Runway Ready: Fashion Design students excited to show their collections

Harper College News Bureau

May 10, 2022

May 10, 2022
Each spring semester, Harper College Fashion Design students create a "senior collection" as their capstone project. This year, one of the senior design students is a senior citizen.
Dawn Emrath retired from her teaching job in Barrington in 2019. With two grown daughters and some extra time on her hands, she thought it would be fun to take a sewing class at Harper. She got hooked.
"I signed up for the beginner sewing class," said Dawn, 66. "I enjoyed it so much, I just kept going with it."
Three years (and many fashion courses) later, Dawn has been working to put the finishing touches on her design collection for the Fashion Design Studio course. It is the culmination of newly acquired skills, a background in sewing and an educational journey she didn't realize she was beginning with that first class.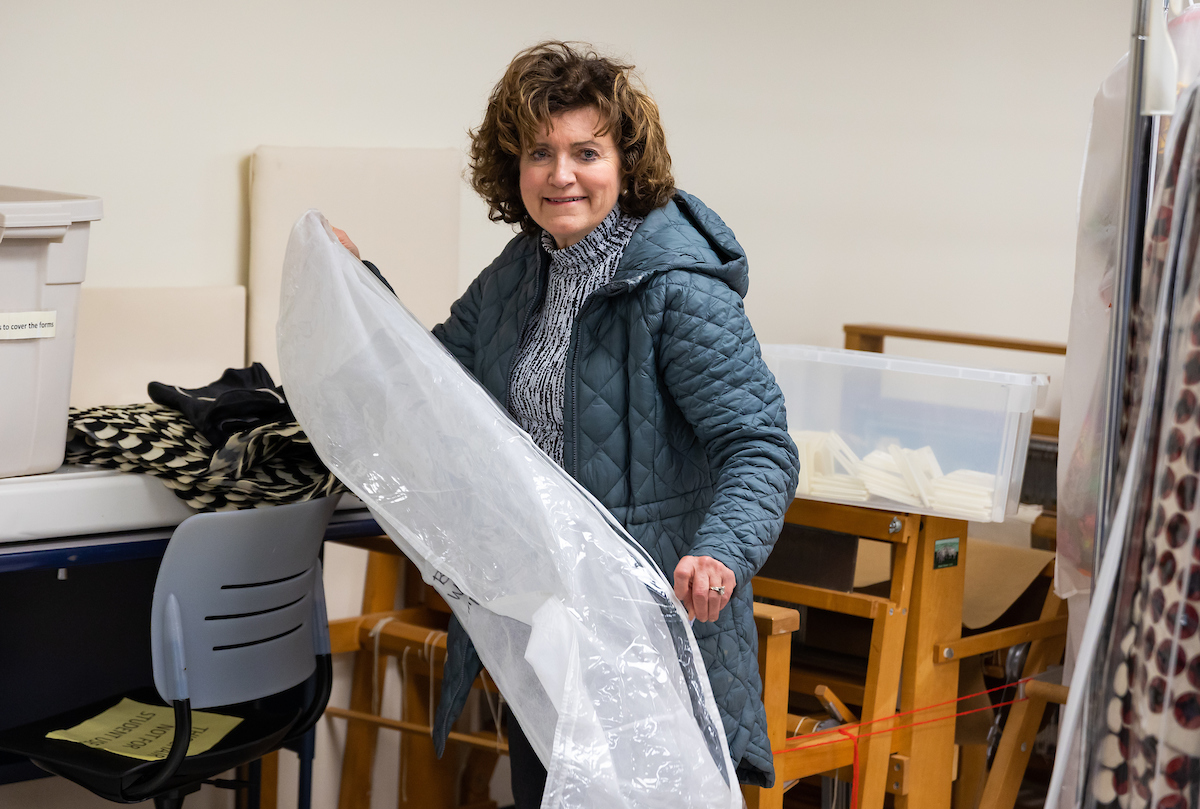 Dawn is excited about seeing her collection walk the runway at Harper's Student Fashion Show – Enigma, 1 and 8 p.m. Friday, May 20, in the Performing Arts Center. She discussed the collection – which is red, white and black and features geometric emblems of different sizes – as a balance between what she brought to the classes and what she learned.
"I knew a lot, but I also learned a lot," Dawn said. "For my collection, I did a lot of laser cutting, which I didn't know anything about [before enrolling]. It also has a lot of quilting and I've been quilting for a long time. And I designed some prints, which I had never done before."
Meanwhile, Harper's entire Fashion Studies department is doing something they haven't done in a while: hosting an in-person, on-campus show at the end of the academic year. Due to COVID-19 safety protocols, the annual show (led by Fashion Merchandising students) went virtual in 2020 and 2021. Nupur Sharma, associate professor and program coordinator for the department, is thrilled to bring the energy of a live event back to Harper.
"It's not only the energy during the performance, but leading up to that. It's the time when the department comes together – the teachers, the Fashion Design students mingling with the Fashion Merchandizing students," she said. "Relationships matter as much as your own designs in this industry. You can't do this in a bubble."
Student Fashion Show – "Enigma"
When: 1 and 8 p.m. Friday, May 20
Where: Performing Arts Center
Tickets: $10 adults, $5 students and children 18 and younger (1 p.m. show); $25 adults, $20 students (with ID), $50 VIP (8 p.m. show)
Call the Harper Box Office at 847.925.6100 or purchase at the door. Learn more.
Another adult Fashion Design student, Julia Gawron, echoed Nupur's thoughts. Set to graduate with her associate degree this semester, she's already talking about coming back to visit instructor Beata Kania and check out the continuing creative work at Harper.
Julia, 40, delayed her education while she was a stay-at-home mom to her two daughters. Growing up as the child of two painters in Poland (she came to the U.S. in 2005), Julia knew that she wanted to do something in the arts. Seeing American fashion in her new home helped shape her future.
"I didn't know what medium to pick to express myself. I came to the U.S., and I wasn't happy with the level of fashion I was seeing," Julia said. "Once my kids went to school, it was time to do something for myself."
Lately, Julia's been creating an outerwear collection that mixes fur, knitwear and leather while being inspired by Japanese design and surrealism. Like Dawn, she can't wait for her family and friends to come see her work in the show.
Reflecting on her three years at Harper – and countless hours of sewing – Julia expressed gratitude for the faculty members who helped shape her artistry.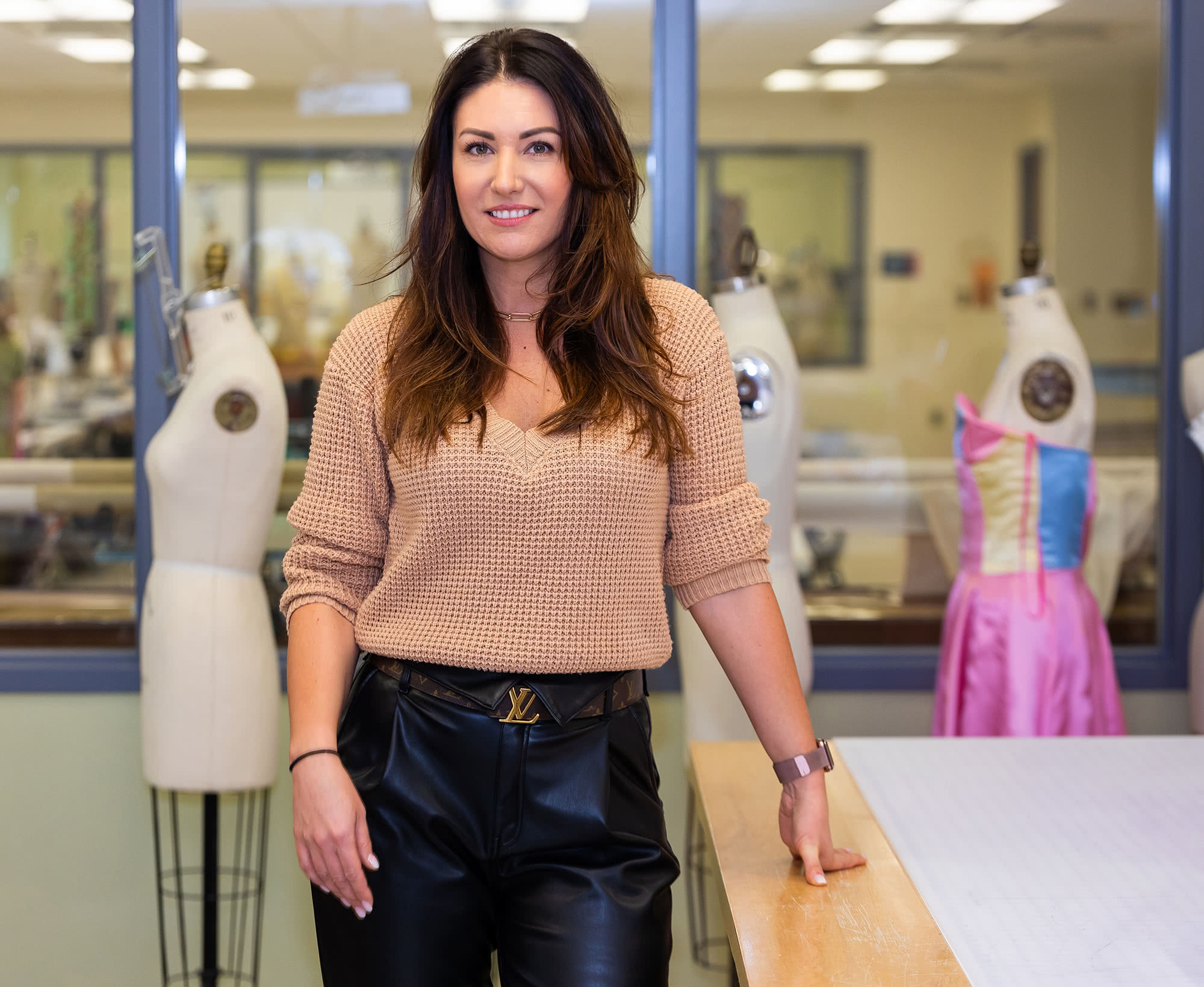 "The instructors or so knowledgeable," Julia said. "They're always encouraging you to do better and more."
Dawn agreed while beaming about a new passion that began with one sewing class.
"This is not what I expected, and it's been just fabulous for me personally," Dawn said. "I had no idea that Harper was going to have such a great program with small class sizes. And the professors… I just can't say enough about them."