New options make transportation to Harper easier, more affordable
New options make transportation to Harper easier, more affordable

Harper College News Bureau

August 1, 2022

August 1, 2022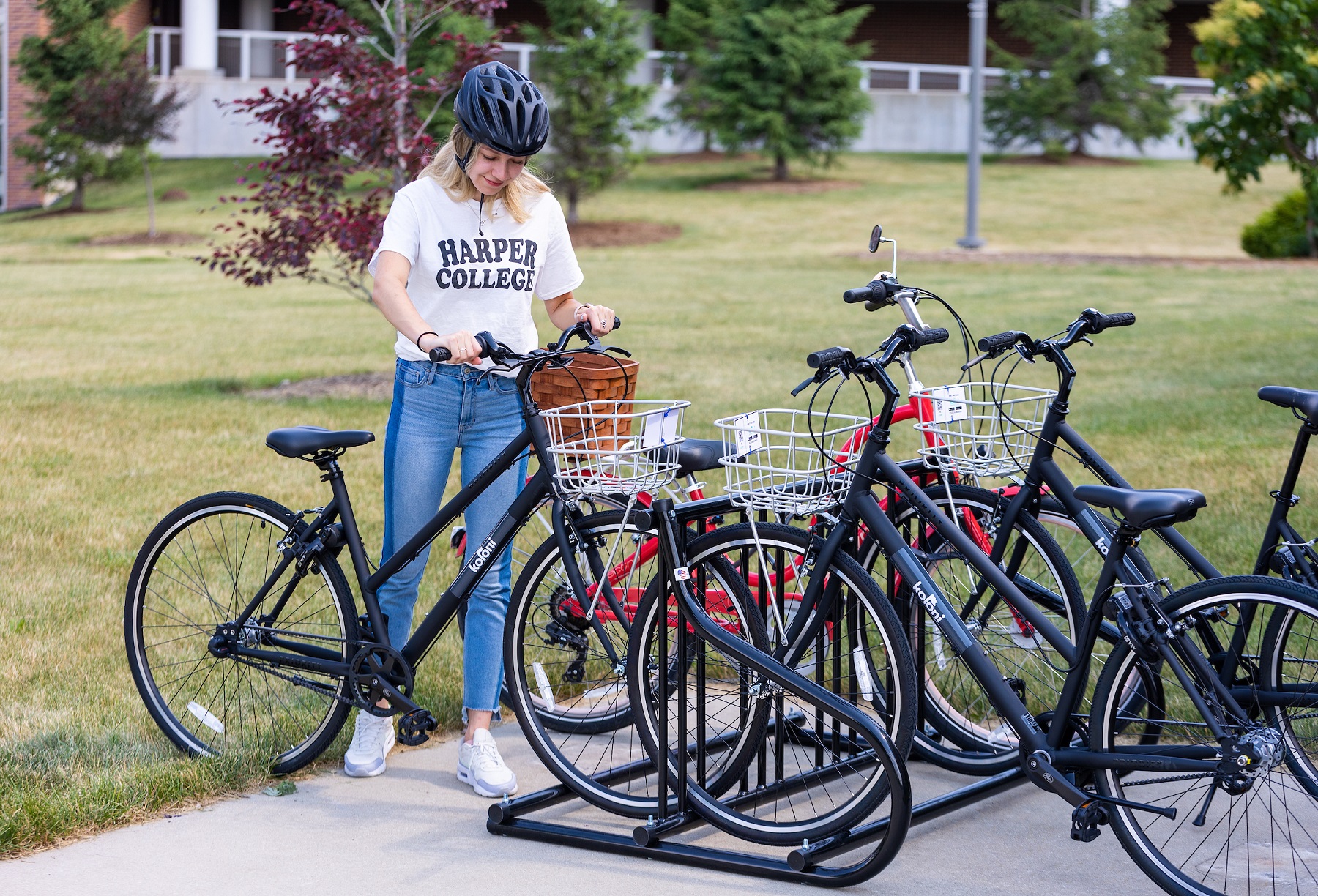 It's going to be easier to get to Harper College this fall semester. The college is excited to introduce a variety of affordable transportation options – including a new bus route, ride-share program and bike share pilot – that will provide greater access to Harper's campus.
"We know we can make a dent in the challenges students face in getting to campus," said Jeff Julian, Harper's chief of staff. "It's about access or finances – and in many cases, it's both."
Lack of transportation can be the difference between a student graduating with a credential or never making it to campus. That's why Dr. Avis Proctor, college president, and Harper employees have continually worked with elected officials and transportation leaders on solutions, from creating the Transportation Task Force with community members in 2019 to hosting a Transportation Summit this spring.
New Pace Route
The COVID-19 pandemic added extra transportation barriers, including the 2020 suspension of a Pace bus route that brought students to and from campus a dozen times each weekday. But Harper and Pace have remained in contact during the past two years, resulting in a new pilot route that will begin running August 8.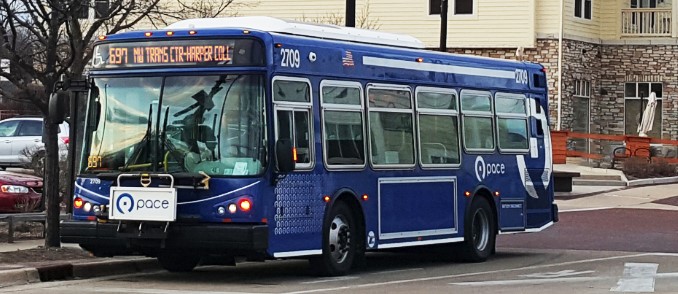 Pace Route 697 will start at the Northwest Transportation Center in Schaumburg and end at Harper's Palatine campus, before making a return trip to the center. The bus will make additional stops near Woodfield Mall and along Meacham and Algonquin roads, with a total travel time of approximately 16 minutes. The route will repeat 19 times each weekday, running from 6:49 a.m. to 7:22 p.m. One-way fares range from $1 to $2.25.
The route is more direct and consistent than what existed previously. With a range of other Pace routes leading to the Northwest Transportation Center, Route 697 can play a part in connecting many corners of Harper's district to campus.
Ride-Share Program
Because Harper's district serves a large area with 23 different communities, a ride-sharing service can sometimes be the best transportation option. That's why Harper will soon announce a ride-share pilot featuring discounted rides for students.
Those who participate will be able to take advantage of a monthly discount on rides to get to and from Harper's main campus in Palatine or the Learning and Career Center in Prospect Heights. Discounted rides will be required to either start or end at a Harper location.
"Harper will pay for the discounts with surplus money in our budget," said Dr. Maria Coons, vice president of strategic alliances and innovation. "We know there can be significant transportation challenges and it's important to provide solutions wherever we can."
Bike Share Pilot
Another solution exists in Harper's bike share pilot, an idea put forth by the President's Leadership Academy (a group focused on growing leadership within the college). Harper has partnered with shareable technology company Koloni, which provided 10 bicycles for the program and installed racks near the campus Starbucks in Building D. Harper also arranged for a rack near the Palatine Metra station, providing a speedy connection for those who travel to campus via rail.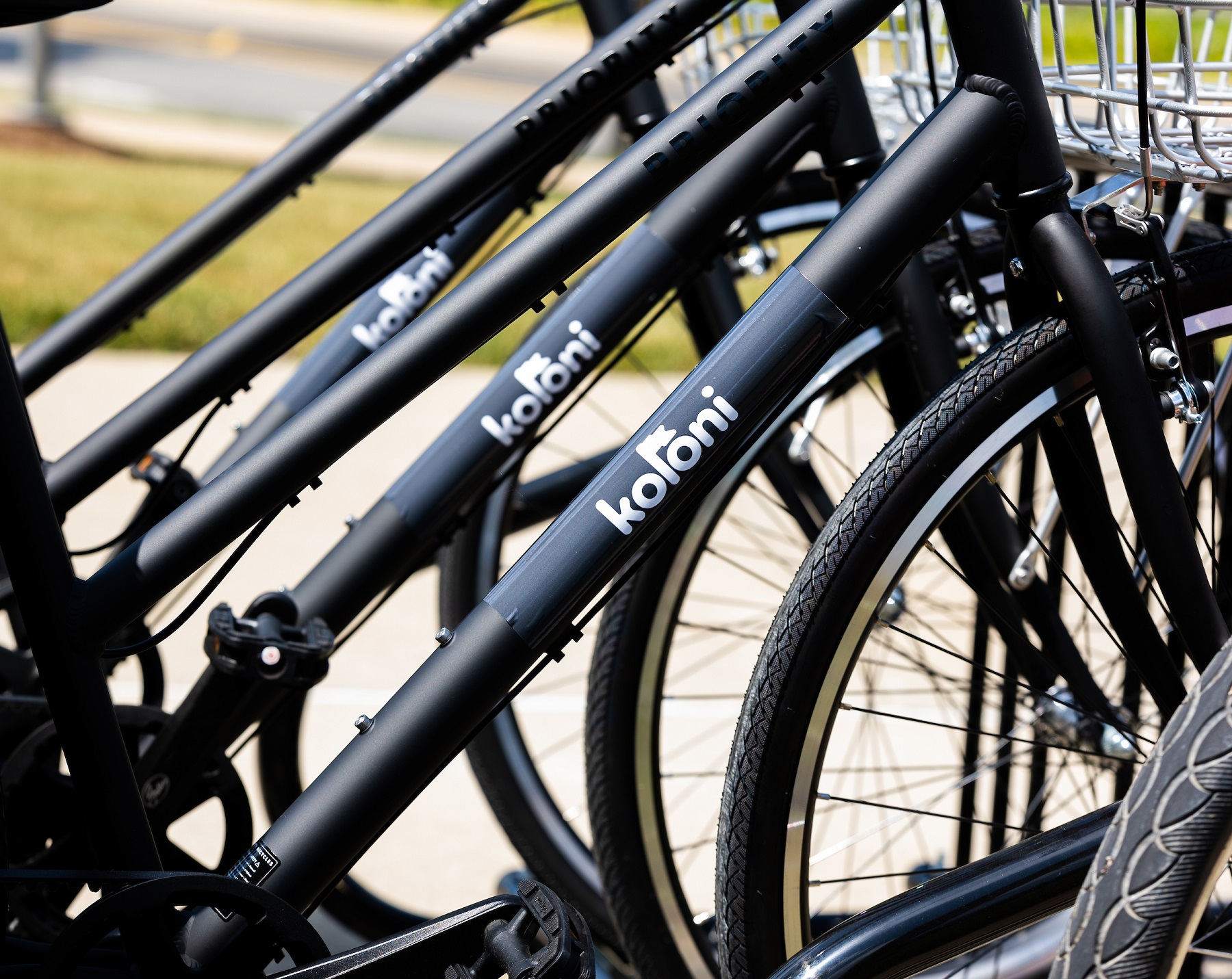 Here's how it works: Harper students, employees and community members can download the Koloni app (via Apple or Google), register and unlock a bike for use. For anyone with a Harper email address, the first two hours are free. After that, each hour costs $1. The two-hour free period resets each day, which means that many riders will never pay a dime.
Those without a Harper email can use the bikes as well. Rentals are free to community members for the first hour and incur a $2 hourly charge thereafter. This also resets on a daily basis. In addition, annual $15 passes allow riders four hours of bike time every day for a year. All riders need to provide their own helmets. More information is available on the bike share webpage.
Although one of the pilot's goals is to provide a breezy, eco-friendly way to travel the 3-1/2 miles between downtown Palatine and Harper, the bikes are just as accessible for exercise or a way to take a spin around campus.
A 'Multilayered Approach'
"It's not just one solution," Julian said. "The bus, the cars, the bikes – it's a multilayered approach."
He emphasized how crucial transportation solutions are to Dr. Proctor, who recently attended an infrastructure event at which U.S. Secretary of Transportation Pete Buttigieg emphasized that transportation shouldn't be an obstacle to success.
That message continues to resonate at Harper. Julian recalls a student discussing how she often had to choose between eating dinner or getting a ride home from class.
"This is never a situation that we want our students to be in," he said.
That's why Harper leaders continue to be involved in meetings and conversations with area townships, local legislators and public transportation representatives. Funds from grants related to the 2021 federal Infrastructure Investment and Jobs Act (which has public transit investment as one of its core aims) can bolster existing solutions and foster new ones.