NECSS schools awarded majority of College and Career Pathway Endorsements
NECSS schools awarded majority of College and Career Pathway Endorsements

Harper College News Bureau

September 27, 2022

September 27, 2022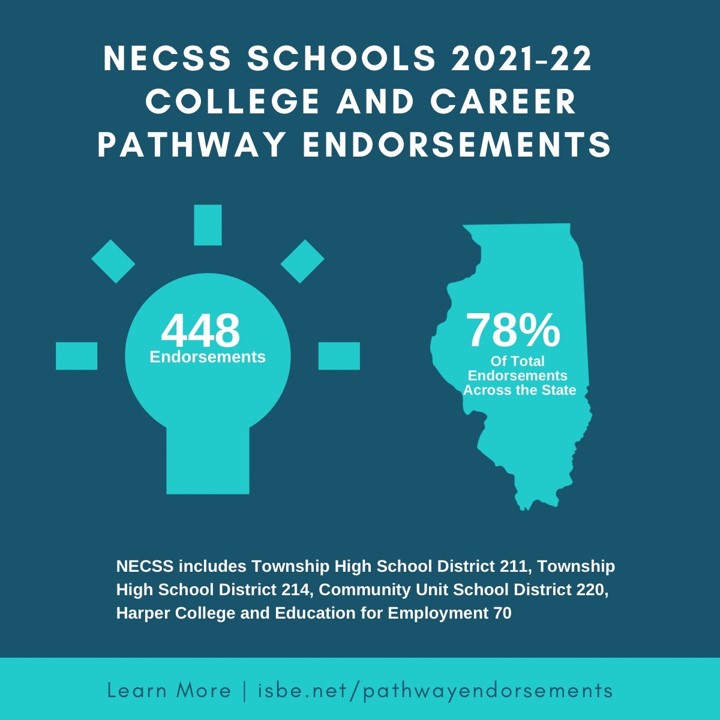 Among the state's cardinal strategies to help ensure Illinois high school students are prepared for life after graduation are College and Career Pathway Endorsements, which signify a student is ready to pursue higher education or enter an in-demand career field.
Member schools of the Northwest Educational Council for Student Success (NECSS), a secondary and postsecondary regional educational collaborative in the Northwest suburbs, are at the forefront of the statewide movement.
Comprised of partners Township High School District 211, Township High School District 214, Community Unit School District 220, Harper College and Education for Employment 70, NECSS high schools awarded 448 College and Career Pathway Endorsements in 2021-22, accounting for 78% of total endorsements across the state.
"We recognize the value of creating unique learning opportunities and ensuring our students are prepared to move successfully from high school to college or careers," said Dr. Lisa Small, superintendent of High School District 211 and this year's NECSS board chair. "This endorsement represents something that we have long known: Our students are ready to succeed. This endorsement puts a stamp of approval on the work our students have accomplished, and we are proud to be leading the way in recognizing the efforts of our teachers and students."
College and Career Pathway Endorsements signal to colleges and employers a student's commitment to a field and demonstrate an impressive portfolio of technical skills, knowledge and employability competencies.
Currently, NECSS' high schools offer endorsements in five sector areas: Finance and Business Services; Human and Public Services; Health and Science Technology; Information Technology; and Manufacturing, Engineering, Technology and Trades.
"The value that students derive by exploring their options through career pathways while still in high school is well established," said Dr. David Schuler, superintendent of High School District 214. "Now, to see that so many students are taking that to yet another level by doing the work required to earn College and Career Pathway Endorsements indicates the remarkable degree to which NECSS member school students are setting themselves apart in preparing for post-secondary success."
Students earn these endorsements on their high school transcript by completing an individualized learning plan, a career-focused instructional sequence, and professional learning opportunities that provide opportunities for students to interact with adults in their workplace.
Examples of activities that students take part in include employer visits, job shadowing, 60 hours of paid or credit-bearing internship, team-based challenges with adult mentoring, and coursework articulating to a postsecondary credential with labor market value.
"College and Career Pathway Endorsements support students in their postsecondary readiness, regardless of their path," said Dr. Robert Hunt, Barrington 220 superintendent of schools. "Authentic engagement in learning that is hands-on, innovative, and collaborative ensures that students are building their proficiency in skills such as communication, initiative and self-drive, and problem solving, which are essential for their future readiness and employability. We are grateful for our partnership with NECSS and their support in developing such strong college and career programming."
Other benefits of earning a College and Career Pathway Endorsement include Harper College waiving its First Year Seminar course. And students who have earned an education-related endorsement will automatically be considered a finalist for the Golden Apple Scholars of Illinois, a teacher preparation program providing mentorship and up to $23,000 in tuition assistance.
"Issuing the majority of endorsements throughout the state, our commitment to the College and Career Pathway Endorsements is another shining example of how NECSS partners collaborate to ensure all students in our local communities have the opportunity to succeed educationally and launch careers with the knowledge and skills that employers need," said Dr. Avis Proctor, president of Harper College.
In the Northwest suburbs and beyond, colleges and employers can expect to see a growing number of prospective workers and students boasting College and Career Pathway Endorsements among their credentials; the state adopted a law earlier this year requiring school districts to apply to offer at least one endorsement area beginning with the high school graduating class of 2027.