Two Harper leaders selected for Aspen Rising Presidents Fellowship
Two Harper leaders selected for Aspen Rising Presidents Fellowship

Harper College News Bureau

April 5, 2023

April 5, 2023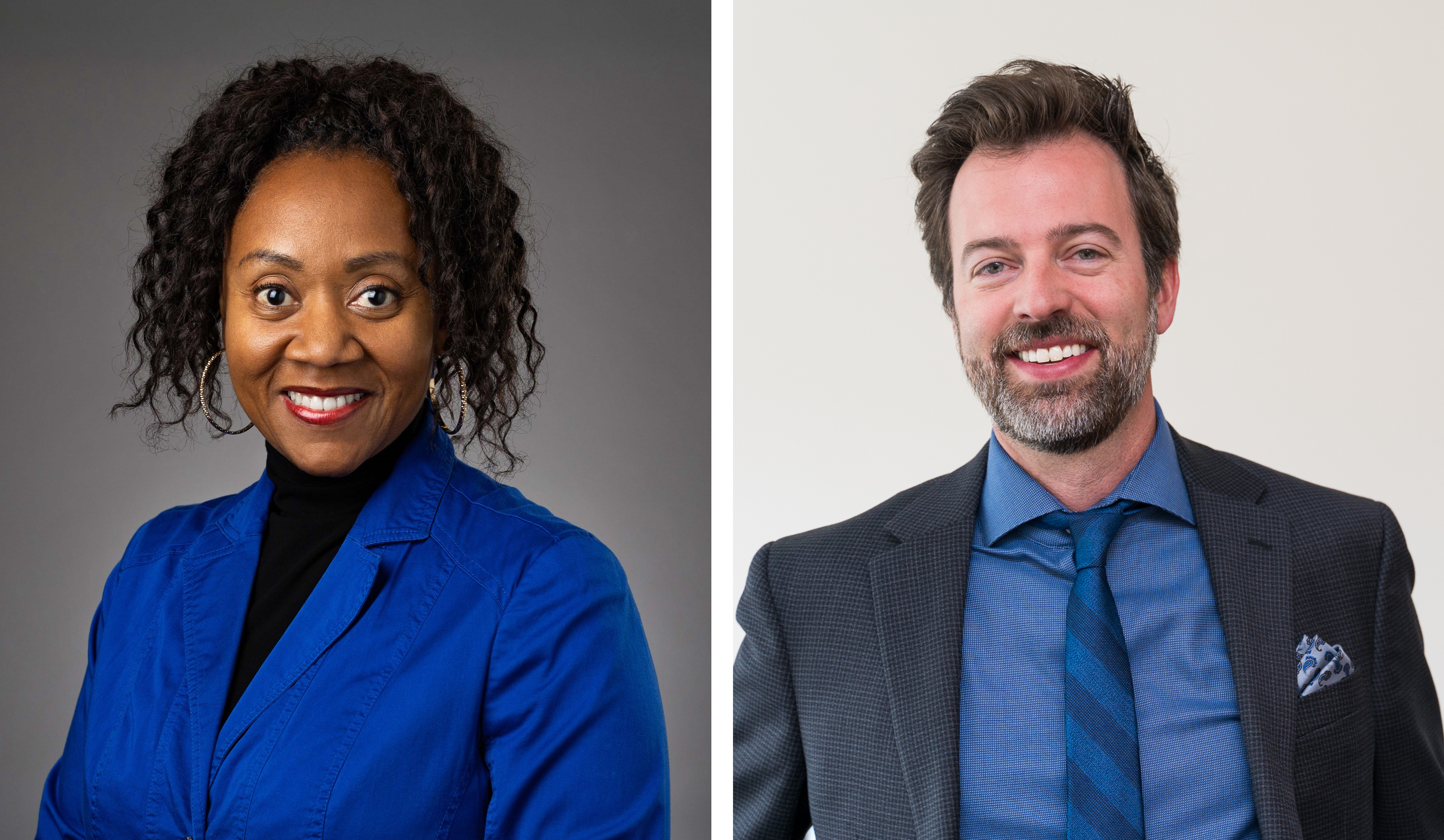 The Aspen Institute College Excellence Program on Wednesday announced two Harper College leaders have been selected for the Aspen Rising Presidents Fellowship, a prestigious program preparing the next generation of community college presidents to transform institutions to achieve higher and more equitable levels of student success.
Dr. Tamara Johnson, who serves as Harper's vice president of diversity, equity and inclusion, and Jeff Julian, the college's chief of staff, are among the 35 leaders selected for the 2023-24 class of Aspen Rising Presidents Fellows.
"Dr. Tamara Johnson and Chief of Staff Jeff Julian are strategic leaders who throughout their careers have demonstrated a clear commitment to student success, the advancement of higher education and a dedication to personal and professional excellence," said Dr. Avis Proctor, president of Harper College and an alumna of the Aspen Presidential Fellows program. "I'm excited to see their interest in leading transformational change and having an even greater impact on our students, our communities and our field."
Many sitting community college presidents plan to retire in the next decade, creating vacancies and an opportunity to diversify college leadership. Aspen Presidential Fellows represent the next generation of college leadership: This incoming class of Aspen Rising Presidents Fellows is 74% women, and 60% are people of color. The institutions they represent are also diverse, located in 18 states, from small rural colleges to large urban campuses.

The program is delivered in collaboration with the Stanford Educational Leadership Initiative.
The fellows, selected through a competitive process, will work closely with highly accomplished community college presidents, Aspen leaders and Stanford University faculty over 10 months to learn from field-leading research, define and assess student success at their colleges, and clarify their visions for excellent and equitable outcomes for students while in college and after they graduate.
"Each cohort of the Rising Presidents Fellowship is different," said Josh Wyner, executive director of the College Excellence Program. "And what they all share is a passion to advance excellence and equity in student outcomes and the commitment to ensure that the colleges they lead continuously improve."
In her role at Harper, Dr. Tamara Johnson provides vision and leadership for DEI initiatives across the college. As a psychologist by training with a social justice lens, she makes every effort to address institutional barriers and develop the conditions, policies and systems that maximize opportunities for all members of the Harper community to engage, excel and thrive. Dr. Johnson has over 20 years of experience in higher education including roles at Adler University, University of Wisconsin-Eau Claire, University of Chicago, Northwestern University, Illinois State University and Indiana State University. She joined Harper in 2021.
As chief of staff at Harper, Jeff Julian supports Dr. Proctor as a key advisor, supporting and implementing her agenda and college priorities, stewarding the college's leadership teams and undertaking key initiatives such as Harper's Lyft rideshare program, which helps to address transportation barriers through discounted rides to students. He also leads the college's state and federal legislative affairs program. He previously served in roles at the American Library Association, Elgin Community College and Joliet Junior College. Julian joined Harper in 2018.
Rising Presidents Fellows aspire to enter a college presidency within five years of completing the fellowship. As fellows, they join a network of over 300 forward-thinking peers—155 of whom are sitting college presidents—who are applying grounded and innovative strategies to meet student success challenges in their colleges.
The Aspen Rising Presidents Fellowship is made possible by the generous support of The Andrew W. Mellon Foundation, Charles and Lynn Schusterman Family Foundation, College Futures Foundation and JPMorgan Chase.
For more information, visit highered.aspeninstitute.org.