Presidential Search

Dr. Avis Proctor Named Sixth President of Harper College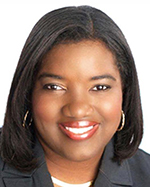 The Harper College Board of Trustees approved the selection of Dr. Avis Proctor as its next College President by unanimous vote on Wednesday, Feb. 13, at the Committee of the Whole meeting.
Dr. Proctor will become the sixth President of Harper College on July 1, 2019, succeeding Dr. Ken Ender, who is ending his 10-year tenure at the institution on June 30. The Board of Trustees approved a three-year contract for Dr. Proctor at an annual salary of $305,000. Proctor currently serves as Broward College's North Campus President in Coconut Creek, Florida.
"I am honored to serve as Harper College's next President, and I am grateful to the Board of Trustees for the opportunity to serve our community to achieve academic, social, and economic progress through higher education," Dr. Proctor said. "I look forward to collaborating with our faculty and staff to help our students succeed."
Dr. Proctor has 25 years of experience working in multicultural environments as an innovative mathematics educator and academic administrator with a focus on teaching, service, and research. As a higher education scholar and an Aspen Presidential Fellow, Dr. Proctor contributes to the professional discourse from local to global levels on progressive leadership in higher education, research-based instructional strategies, strategic community engagement, economic development, and the STEM pipeline for underrepresented groups.
Harper College began its comprehensive national search for Dr. Ender's replacement in September 2018. Pat Stack, Vice Chair of the Harper College Board of Trustees, and Diane Hill, Board of Trustees, led the Presidential Search Advisory Committee, which included members of the Harper College Educational Foundation, faculty and staff, union leadership, and members of the community.
"We are grateful to the search committee for their tremendous effort assisting the Board in identifying the finalists that were interviewed by the Board," Chair Greg Dowell said. "In making this selection of Dr. Proctor as our next President, the Board of Trustees is confident that Dr. Proctor will continue our rich history of quality education and will build on the excellent leadership that Dr. Ender has provided. She will guide us as we continue the important work on student success initiatives and providing meaningful learning and career training opportunities for our community."
Dr. Proctor believes in working closely with local school districts, the business community, and higher education institutions. She has provided collaborative leadership for early childhood education, dual enrollment, and college readiness/completion initiatives which have gained national attention. Her work at previous institutions has included expanding articulation, internship, and employment opportunities to enhance student-employer connections for current students as well as alumni.
Dr. Proctor earned her bachelor's degree in Mathematics Education at Florida Agricultural and Mechanical University, a Master of Science in Teaching Mathematics at Florida Atlantic University, and her Doctorate in Higher Education at Florida International University. Dr. Proctor and her husband, Cosey Proctor, Jr., are the proud parents of one son.
Presidential Search Advisory Committee
Pat Stack - PSAC Chair
Board of Trustees
Diane Hill - PSAC Vice Chair
Board of Trustees
William F. Kelley - Alternate
Board of Trustees
Tom Wischhusen
Foundation Board
Dee Beaubien
Foundation Board
Dr. Tom Dowd
Faculty
Nellie Khalil
Faculty
Jose Vital
Faculty
Dr. Charmian Tashjian
Adjunct Faculty
Al Cannestra
IEA NEA (Maintenance)
Rick Kellerman
Professional Technical
Jewell Jackson
Supervisor/Management
Dr. Kathy Bruce
Administrator
Dr. Travaris Harris
Administrator
Laura Brown
Executive Council
Niki Safakas
Student
Dr. Daniel Cates
District 211 Superintendent
Laurie Stone
Community At-Large
Mary Budyak
Assistant
Search Firm
The Harper College Board of Trustees has approved RH Perry and Associates as the Presidential Search Firm. RH Perry was selected after an extensive evaluation of eight firms, including client reference checks. They recently completed presidential searches at McHenry Community College and Illinois Central Community College. The lead consultants for Harper's presidential search are Jesse Thompson and Joanne Bashford. Dr. Bashford is very familiar with Harper, having served as one of the College's coaches for Achieving the Dream program for several years.
Meetings with Constituent Groups
The Presidential Search Committee set up meetings between different internal and external groups and RH Perry, the consultant for the Presidential Search. They requested 45-minute sessions with the identified groups on September 5–6. In addition, there are three open forums for anyone who cannot attend the assigned times. All meetings will be held in the Wojcik Conference Center, Rooms W214/215.
Prior to that meeting, RH Perry has asked each attendee to think about, and bring to the meeting, their candid thoughts and perceptions on the following:
The major challenges (and opportunities) that Harper College must address in the next five to ten years;
The background and experience; educational qualifications; and professional and personal characteristics we should seek in a president to ensure that we successfully meet those challenges and take advantage of opportunities; and
Names of individuals who should be encouraged to become candidates for the presidency of Harper College.
The presidential search is one of the most important activities that we will undertake in the next few years. Everyone's perspective is important to help identify candidates who will most effectively meet the future needs of Harper College and the communities the College serves.
Committee Meetings
Agendas and minutes for the Presidential Search Committee will be posted as they become available:
| MEETINGS | ROOM | AGENDA | MINUTES |
| --- | --- | --- | --- |
| June 12, 2018, 4 p.m. | | | Minutes |
| September 5, 2018, 4 p.m. | W-214/215 | Agenda | |
Committee Documents
Information About Harper College
Questions? Contact Laura Brown, Chief Advancement Officer and Vice President, lbrown@harpercollege.edu.