Harper Alumna Creates New Scholarship
Harper Alumna Creates New Scholarship

Harper College Educational Foundation

June 5, 2018

June 5, 2018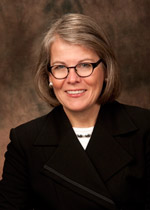 Dr. Nancy Castle was 16 years old when she arrived at Harper College in 1973. During her time on campus, she explored an interest in psychology and built a foundation of skills and confidence that she later parlayed into a nationally recognized career in the field. Dr. Castle was recognized as a Harper College Distinguished Alumna in 2011. As a Harper College Educational Foundation Board Member, she values her experiences at Harper College.
"Coming from a large family, affordability was the issue that drove me to Harper," Castle says. "However, thanks to the interest taken by a handful of faculty, I left Harper with skills that served me well over the rest of my life." Nancy says that she still draws on information that she learned in Harper College classes when she attends symphony concerts or art museums. In fact, she credit her Harper classes and professors and their encouragement to try new things as one reason she attends concerts and museums.
It was with this sense of encouragement to try new experiences that Nancy and her husband, John, established the Castle Scholars Study Abroad Scholarship this past fall. The scholarship supports students who are enrolled in Harper's faculty-led study abroad program and helps to underwrite the cost of the program. This past year, eight recipients were chosen to receive the scholarship which helped to pay for the cost of Harper-led study abroad trips to Costa Rica and Uganda during the spring 2017 semester.
Nancy and John believe that international experiences are life-changing. Nancy herself did not travel abroad until she was in her 40s. Now, in retirement, international travel is one of her favorite pastimes. She has even taken a Board position for an international educational organization headquartered in Paris, France.
Nancy and John hope the recipients of the Castle Scholars Study Abroad Scholarship will gain an experience that will change their lives. And, based on a thank you note they received from one of their scholars, it appears as though they've achieved their goal: "Receiving this scholarship means the world to me, literally. I feel that I have been given the opportunity to expand my horizons and explore more of what the world has to offer."