Inaugural Events Celebrated AMITA Health, Alexian Brothers Health System
Inaugural Events Celebrated AMITA Health, Alexian Brothers Health System

Harper College Educational Foundation

May 7, 2015

May 7, 2015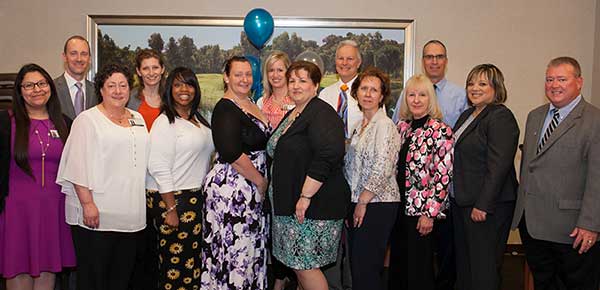 AMITA Health/Alexian Brothers Health System employees who are Harper alumni, with members of the Harper College Alumni Committee.
The Harper College Educational Foundation honored AMITA Health and Alexian Brothers employees who are Harper College alumni at a special ceremony at AMITA Health Alexian Brothers Women and Children's Hospital in Hoffman Estates on May 7, 2015. The ceremony was the inaugural event of the Foundation's "Stand Up and be Counted" program which gives recognition to local businesses that employ Harper College graduates.
The Foundation started the "Stand Up and be Counted" initiative as a way to highlight the importance of Harper graduates to the local workforce, reinforce the partnership between Harper College and local businesses and honor Harper alumni who work in the northwest suburbs.
"Harper College alumni contribute significantly to the economic vitality of the community by utilizing their education to help local businesses succeed," said Jim Meier, Harper Foundation Board member and Chair of the Alumni Committee. "The Stand Up and Be Counted program is a wonderful way to celebrate those employers who recognize the value that Harper alumni bring to the workplace by hiring them."
In addition to participating in the Harper Foundation's "Stand up and be Counted" program, AMITA Health also supports Harper students by providing scholarships and support for strategic initiatives and by partnering with Harper's nursing program to advance excellence in education.
"Alexian Brothers is proud to be a long time partner with Harper College," said Kelley Clancy Sr., Vice President, Advocacy, AMITA Health. "We have collaborated over the years to provide opportunities for area residents in the health care industry. The result has produced some of the highest quality nursing and allied professionals in the Northwest suburbs."
A second event was held at Alexian Brothers Medical Center in Elk Grove Village on May 15, 2015.
View pictures from our inaugural Stand Up and Be Counted event.
To schedule a Stand Up and Be Counted celebration on site, or for more information, contact Alumni Relations at 847.925.6701.