BMO Harris Bank Employees Gather for Special Ceremony
BMO Harris Bank Employees Gather for Special Ceremony

Harper College Educational Foundation

February 15, 2016

February 15, 2016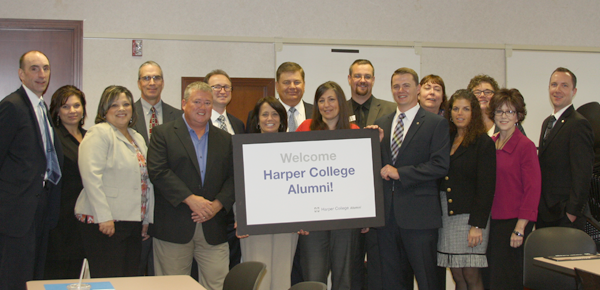 Jack Lloyd took a look around the BMO Harris Bank conference room in Rolling Meadows and reveled at all the ways Harper College had impacted each and every person there.
"I don't know that we'd be able to operate without our Harper alumni," said Lloyd, BMO Harris Bank market president. "Look and how many of our employees have been trained and educated there. The number is absolutely huge."
Nearly two dozen BMO Harris Bank employees from a variety of branches recently gathered for a special ceremony through Harper's Stand Up and Be Counted initiative. The newly created program aims recognize employers throughout the community who have hired Harper alumni and to connect with Harper alumni in the workplace. Jim Meier, Harper Foundation Board member and co-chair of the Alumni Committee, presented Lloyd with a plaque of appreciation.
"Harper College is giving people the foundation they need to be successful in life," said Jim Meier, Harper Foundation Board member and chair of the Alumni Committee. "Our alumni go on to make significant contributions to their organizations and communities, and BMO Harris Bank is an important partner in making that happen."
Lloyd shared how his family moved to Rolling Meadows when it was incorporated exactly 60 years ago. They watched Harper, which will celebrate its 50th anniversary in 2017, evolve into the institution it is today.
"I knew Harper when it was still a corn field," said Lloyd, who could name several siblings, nieces and nephews who attended over the years. "BMO Harris has a strong alliance with Harper, which is critical because of the role the college plays in our community, our businesses and our families."
The Harper College Educational Foundation has also honored AMITA Health/Alexian Brothers Health System and their employees who are alumni at earlier Stand Up and Be Counted celebrations.
Joe Quinn, vice president and regional sales manager, who also serves as co-chair of the Harper Alumni Committee similarly spoke of how Harper had helped both him and his sister "reset" so they could better choose a career path they'd be passionate about taking. He acknowledged that many alumni couldn't attend the event since branches had to stay open, but he encouraged his colleagues to spread their renewed enthusiasm for their alma mater.
"Take this back to your branches, tell them how important our relationship is with Harper," Quinn said.
Based in Chicago, BMO Harris Bank has more than 600 branches and approximately 1,300 ATMs in Illinois, Wisconsin, Indiana, Kansas, Missouri, Minnesota, Arizona and Florida. BMO Harris Bank is part of BMO Financial Group, a North American bank with more than 1,500 branches and a combined North American deposit base of approximately $180 billion, and combined U.S. businesses that rank as the 12th largest commercial bank, by assets, in the United States.