Fashion Through the Decades: A History of Harper College's Fashion Department
Fashion Through the Decades: A History of Harper College's Fashion Department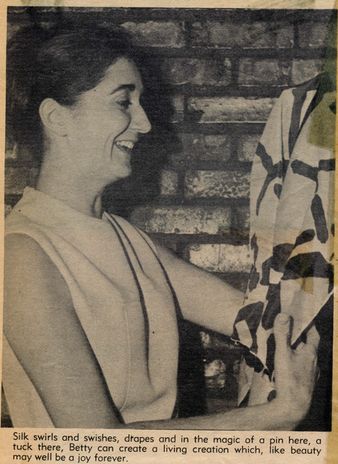 Why is fashion so appealing to us as a society? Surely, there has to be more to it than the practical purposes of modesty and protection against the elements. And for that matter, what is it that separates fashion from "mere clothing"?
One possible answer is that fashion binds us to time and place, and reflects the social, economic, and political climate of the larger society. Thus, according to Charlotte Seeling, the allure of fashion lies in its ability to introduce us to "something new, always different, sometimes glamorous, sometimes shocking, futuristic one day, nostalgic the next … but never dull!" On the other hand, Cheryl Turnauer, coordinator of Harper College's fashion department argues that "it's human nature" for us to "want what we see people wearing on film, on television, and in magazine spreads". Additionally, young people can differentiate themselves from older generations by the types of clothing they wear, or by their allegiance to specific brands.
But in a larger sense, fashion is also about masking or enhancing the wearer of the outfit. People are generally a combination of 2 or more body types - round all over, top heavy, and pear shaped – and each body type responds best to different styles of clothing. With the right combination of patterns, styles, and colors, a garment can be manipulated to meet the specific needs of the wearer and draw the eye in a way that compliments their appearance. To quote Kathleen O'Brian, a student in Harper's fashion program in the 1970s, "fashion is so much more than something you put on everyday. It's art."
Works Cited:
The following list of sources was consulted to produce this exhibit:
Beck, Jane, and Jean Louise Parsons. Twentieth Century Dress in the United States. New York: Fairchild Publications, 2007. Print.
Seeling, Charlotte. Fashion, 150 Years: Couturiers, Designers, Labels. Potsdam: H.f. Ullmann, 2012. Print.
Steer, Deirdre. Costume since 1945: Couture, Street Style, and Anti-fashion. New York: Drama, 1996. Print.
Acknowledgements:
The Archivist would like to thank the following people:
Cheryl Turnauer and Franca Deflorio for donating the records of the Fashion Department to the archives and providing so much incredible background information about the program's history.
Wanda Cobar, Christina Draper, Reveca Torres, and Frieda Anderson, who graciously allowed me to interview them about their experiences in the fashion program.
Zaray Buenrostro for picking out several garments and video clips for this exhibit.
David Sullivan, who quickly and efficiently scanned materials so that this project could be finished on time.
Jessica Mandra for uploading the video files to Harper College's Youtube channel.
Matt Nelson, who designed the "Fashion Through the Decades" banner.
And last, but not least, K. C. Babb for helping me navigate the difficult terrain of web design to make this exhibit look clean and consistent.
Copyright Notice:
This exhibit was designed by Martin Firestein, Harper College Archivist, ©2014.
All images, videos, and sketches featured herein belong to the Harper College Archives. To use them, please send an email to archives@harpercollege.edu.