Businesses awarded $25,000 through new Angel Grant program
Businesses awarded $25,000 through new Angel Grant program

Harper College News Bureau

January 13, 2017

January 13, 2017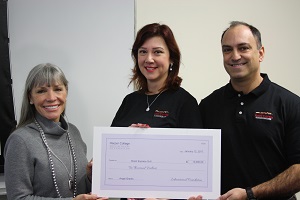 Growing up in a small, poor Brazilian village, Ana Santos remembers the reaction she got as a teenager when she signed up for a course to learn English.
"You're going to be a housewife. You're going to be talking to pots and pans," Santos said.
The lack of support did little to deter her ambition. Today, Santos and her husband own Brazil Express Grill in Schaumburg and employ 20 people. The couple is looking to expand the restaurant's reach – possibly through additional locations or a franchising enterprise.
Helping them in their endeavor will be $10,000 through the Harper College Educational Foundation's new Dream Big – Angel Grant program to support emerging and active entrepreneurs.
Brazil Express Grill and two fellow fledgling businesses were recently selected as the first class of Angel Grant recipients. They were among several clients of the Illinois Small Business Development Center at Harper invited to make a "Shark Tank" style pitch for grant money.
The driver behind Harper's new program, which will also benefit student-run companies, is Barrington-area philanthropist Kim Duchossois, also chairman of The Duchossois Family Foundation. Duchossois said she was inspired by the pioneering business incubator curriculum that Barrington High School rolled out several years ago.
"I'm just energized by these stories and the idea of empowering businesses so they can get a leg up," Duchossois said. "Partnering with Harper to make it happen just seemed like a no-brainer."
The other recipients include Megan Hastings, owner of Lush Bites, and Richard McCaffrey, owner of Robotic Construction Automation (RCA).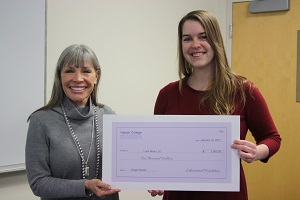 Hastings received $5,000 to support her Des Plaines-based gluten-free cookie subscription box company. In addition to delicious staples, she comes up with unique flavors such as dark chocolate pecan pie. Hastings, who works as a certified public accountant, plans to use her Angel Grant money to collaborate with a designer on branding and invest in more promotional materials.
McCaffrey received $10,000 to support his home-based construction company. The inventor and licensed structural engineer designed portable equipment that enables robotic casting of concrete dwelling modules to more efficiently build facilities such as apartments, hotels and hospitals. The Inverness man said the Angel Grant money will be used to pay patent lawyers and others in hopes of getting the business off the ground.
"This money is lifesaving for our company," McCaffrey said.
Laura Brown, vice president at Harper and chief advancement officer of the Foundation, encouraged the recipients to stay connected, continue to utilize the SBDC's services and lend each other support.
Santos agreed the support and the vote of confidence she feels are just as important as the grant money itself.
"The idea that someone believes in us this much is just awesome," Santos said.
To learn more about the Dream Big - Angel Grant program, visit harpercollege.edu/foundation.
Media contact: Kim Pohl, Media Relations Manager, 847.925.6159