Professor to highlight new Captain Marvel book in free lecture
Professor to highlight new Captain Marvel book in free lecture

Harper College News Bureau

March 14, 2017

March 14, 2017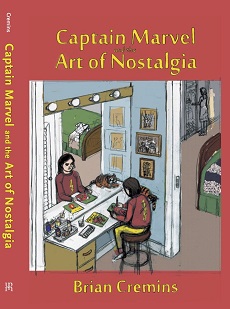 Harper College Associate Professor Brian Cremins isn't much of a superhero fan. That might come as a shock to readers of his new book, "Captain Marvel and the Art of Nostalgia."
For those not up the speed in the world of comics, Captain Marvel is the alter ego of homeless newsboy Billy Batson, who is able to transform himself into the world's mightiest mortal when he says the magic word "Shazam!" Created by writer Bill Parker and artist C.C. Beck in 1939, Captain Marvel was one of the most popular and best-selling comic book characters in the 1940s.
Cremins will present a lecture on "Captain Marvel and the Art of Nostalgia" at 1 p.m. Tuesday, March 28, in Harper College's Drama Lab (Building L, Room L109), located on the College's main campus, 1200 W. Algonquin Road in Palatine.
In his book, Cremins explores the lives of Beck and Otto Binder, a science fiction writer who, after co-creator Parker's departure, went on to craft most of Billy Batson's adventures.
Cremins also explores the history of nostalgia and what this emotion can tell us about how we choose to remember – or misremember – the past.
According to author Qiana J. Whitted, Cremins "tells the story of the Golden Age of Comics through one of its most controversial superheroes." In addition, he "asks larger questions about the superhero genre's origins about realism and ideology in depictions of World War II, and about the limits of racial imagination in early American comics."
Cremins' lecture is free and open to the community. There will also be a raffle of a signed copy of the book and a few "Shazam!" comics from the 1970s. Cremins' essays on comics and graphic novels have appeared in the International Journal of Comic Art, Studies in American Humor, the Los Angeles Review of Books and other publications. "Captain Marvel and the Art of Nostalgia," published by the University Press of Mississippi in December, is his first book.
For more information about Cremins, visit his blog at brianwcremins.wordpress.com.
Media contact:Kim Pohl, Media Relations Manager, 847.925.6159