Haas foundation taps manufacturing program for grant
Haas foundation taps manufacturing program for grant

Harper College News Bureau

April 24, 2017

April 24, 2017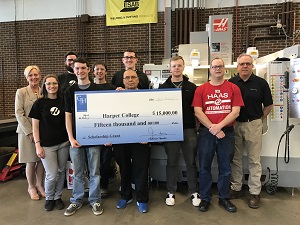 The Gene Haas Foundation has awarded a $15,000 grant to Harper College to support scholarships for students in the manufacturing program.
Rudy Mariotti Jr., CNC sales engineer at Haas Factory Outlet in Elk Grove Village, recently met with Harper students and presented an oversized check.
"Harper College has a top-notch program with its equipment, facilities and instructors," Mariotti said. "We'd love to see more students venture into manufacturing and hope this can raise some awareness."
The grant was awarded through The Gene Haas Foundation, founded by the owner of leading CNC machine tools builder Haas Automation. Haas and his private foundation are committed to manufacturing education and the need to close the ongoing skills gap.
"Haas has been a very valuable partner to Harper, and this scholarship money is further proof of that," said Dr. Mary Beth Ottinger, Dean of Career and Technical Programs at Harper College. "They've been generous with their equipment, time, training and help with our professional development. They really understand the value of partnering with educators."
The grant will support scholarships for students in Harper's machining-based programs over the next two years.
Last year, more than 9,000 Harper students were awarded nearly $23 million in scholarships, grants and tuition waivers.
Media contact:Kim Pohl, Media Relations Manager, 847.925.6159