Student places second in cupcake competition
Student places second in cupcake competition

Harper College News Bureau

April 28, 2017

April 28, 2017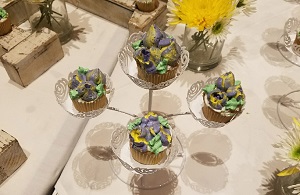 Student Kate Bogdanowicz's spring-themed cupcake took second place and a $500 prize at the fifth annual Community Colleges Cupcake Competition last week against Elgin Community College.
Bogdanowicz, 27, went with a passion fruit curd and coconut frosting cupcake decorated with purple, yellow and green leaves.
"When I think of spring, I think of light colors and citrus types of flavors, so it all came together nicely," she said.
The annual contest is part of the Hoffman Estates Bon Appétit Community Food and Drink Festival. It's sponsored by Splenda manufacturer Tate and Lyle, so contestants have to incorporate the product into their cupcakes. Bogdanowicz opted for Splenda's brown sugar blend.
Bogdanowicz, a full-time mom, student and employee, took a break from college for a few years but returned this semester to explore a career in hospitality.
"I really want to do something for myself and my family, and I thought it could be interesting to take a baking class," she said. "To get such positive feedback with this competition was wonderful. Maybe I've found something I'm really good at!"