Students perform final exam for renowned Shakespearean casting director
Students perform final exam for renowned Shakespearean casting director

Harper College News Bureau

May 6, 2017

May 6, 2017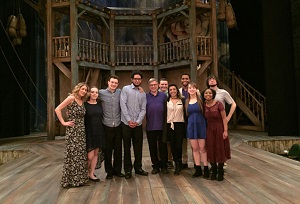 Students in Associate Professor Kevin Long's Folio Technique class faced a rather intimidating – and exhilarating – final exam.
Instead of putting pen to paper or testing in a lab, they headed to a storied venue to perform monologues from a variety of plays including Henry VI, The Merchant of Venice, Hamlet, All's Well That Ends Well, Winter's Tale, Julius Caesar and King Lear.
The location? The sixth floor skyline room of the Chicago Shakespeare Theater on Navy Pier. Their audience? None other than long-time Casting Director Bob Mason, who was charged with providing the performers with critiques and coaching.
"It was a spectacular day," Long said. "The students left feeling incredibly grateful for this truly special opportunity."
Long has taught folio technique for more than 20 years and works with Chicago Shakespeare's education department on its Saturday Teacher Workshops and other programs (see video). Folio technique explores the language and theater of the world's most famous playwright, with actors learning how to interpret text and build a foundation for inspiring performances. Long describes it as a process that results in a tactile, visceral and accessible production.
Mason called the students brave and well-prepared, and said their use of folio technique and language was very clear. He asked their opinion about words and phrases being used and stressed the importance of keeping the character alive throughout the piece.
Maanvi Amin, a 19-year-old student from Chicago, said the experience, which also included a tour, is one she'll never forget.
"At first, I was a nervous wreck and had no idea if I was going to even be able to speak when I got up there," she recalled. "But I knew that Kevin had helped me prepare well. When I actually did get up to do my piece, Bob Mason was super attentive and helpful. He was very engaged and made really specific and helpful critiques. It really helped me get a solid grasp on my monologue and look at it in a new way. The chance to work with Bob Mason was incredible and I feel so grateful."
To Long, Mason's feedback reaffirmed for the students that the training at Harper matches what's being sought at the professional level.
"The students knew exactly what Bob was talking about," Long said. "They responded in a truly professional way. So the fact that they are able to identify what he was asking for and respond to him meant that they are truly 'getting what I'm trying to teach.'"
The students, pictured from left to right, are: Vickey Ippolito, Jasmine Luther, Alex Rogers, Robert Ortiz, Bob Mason, Tyler Newman, Maanvi Amin, Joe Haynes, Jenny Michalski, Rebekah Haynes and Christian Bekas.
Media contact:Kim Pohl, Media Relations Manager, 847.925.6159