Harper receives Equity and Diversity Award
Harper receives Equity and Diversity Award

Harper College News Bureau

June 8, 2017

June 8, 2017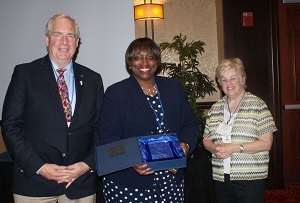 The Illinois Community College Trustees Association has selected Harper College for its Equity and Diversity Award, which recognizes exemplary commitment by the board and president to achieving diversity, equity and inclusion in the college's education programs.
Trustee Bill Kelley, President Dr. Ken Ender and Michelé Smith, Associate Provost and Special Assistant to the President for Diversity and Inclusion, accepted the award last week during the ICCTA's annual convention in Bloomington-Normal.
"This is a huge honor for the college as we continue to grow in the area of diversity and inclusion," Smith said.
Several of Harper's initiatives were highlighted including a series of college-wide diversity and inclusion dialogue workshops over the past academic year, as well as the Faculty Fellow recruitment program, which provides fellowship opportunities to diverse individuals without teaching experience.
The Equity and Diversity Award also recognized several programs:
One Million Degrees provides financial assistance, coaching and other support to low-income, highly motivated students. OMD students, of whom 79 percent are Hispanic or African American/Black, graduate at two times the state average.
Fast Track is an accelerated program designed to accommodate the needs of adults who lead busy lives but are seriously committed to continuing their education. It assists 400 students who average 37 years old and boasts an 81 percent retention rate. More than half of students earn two or more credentials.
Summer Scholars is a high school-to-college summer bridge program that mostly serves students from historically underrepresented ethnic and racial groups. By the end of the four-week program, many students improve their placement levels in math and English.
The Harper Promise Scholarship Program provides all public high school students in Districts 211, 214 and 220 the opportunity to earn up to two years of free tuition at Harper if they meet certain benchmarks related to attendance, rigor (graduating college ready), persistence, quality (C's or better) and community service.
Township High School District 214 Superintendent Dr. David Schuler submitted a letter of support on Harper's behalf, writing that the college has been a valuable partner in helping to make access and success a reality for all its students, especially for those from historically underserved populations. He highlighted several initiatives including the Promise Program (more than 90 percent of the Class of 2020 signed up) and Power of 15, which provides students with an opportunity to earn up to 15 college credits while still in high school.
"Harper is keenly aware of the need to be responsive to the communities that it serves," Schuler wrote. "It has done this work for many years with integrity and an eye toward the future."
Media contact:Kim Pohl, Media Relations Manager, 847.925.6159