Student veterans complete 20-mile Ruck March
Student veterans complete 20-mile Ruck March

Harper College News Bureau

June 19, 2017

June 19, 2017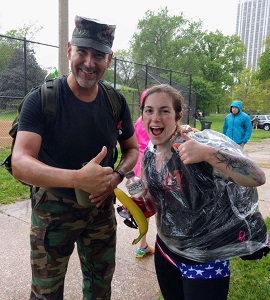 Two student veterans recently laced up their boots and strapped on their (rather heavy) backpacks over for the fourth annual Ruck March.
Participants, carrying 20-plus pound rucks, marched 20 miles from Veterans' Memorial Park in Glencoe to the southern end of Lincoln Park in Chicago over Memorial Day weekend. The event aims to honor those who have died on the battlefield and at home and to raise awareness about PTSD and veteran suicide.
Victor Del Vecchio, who served as a sergeant in the U.S. Army, said the grueling challenge brings the veterans community together.
"The Rucksack March brings back memories of how we used to all work together and share adversity in common cause," Del Vecchio said. "It's a chance to make new friends, reaffirm a common bond and show that we are a community within America and have a voice."
Joining him in representing Harper's Student Veterans' Association was Katie Lea Coy, who served as a petty officer in the U.S. Navy. After 20 miles and eight hours on their feet – the last mile in cold rain – they completed the march in good spirits.
According to a Veterans Affairs study published in 2016, about 20 veterans commit suicide nationwide each day, accounting for 18 percent of all suicides in the United States; veterans make up less than 9 percent of the U.S. population.
The event raised nearly $55,000, more than double its goal.