Student track athlete to compete at Deaflympics
Student track athlete to compete at Deaflympics

Harper College News Bureau

June 21, 2017

June 21, 2017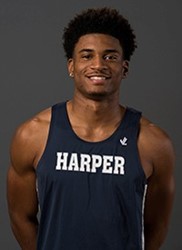 ABC 7 Chicago recently aired a segment on Harper student athlete Dwayne Esper and his journey to compete at the Summer Deaflympics next month in Samsun, Turkey.
Esper, who competes for Harper's track and field team, was struggling to raise the $5,000 needed to fund his trip. Viewers came through, pushing Esper past his goal less than 24 hours after the "Chicago Proud" segment aired.
"We're very pleased with the outcome," said Esper's mother, Anitra White, who's been working side jobs such as cleaning houses and driving for Uber in an effort to raise the money. "I'm a lot less stressed than before."
Esper, who's 22 years old and lives in Calumet City, is currently with his USA Deaf Track and Field sprinting teammates at training camp near Toronto. He'll train at another weeklong camp with the entire team in Houston before heading to Turkey.
While in Samsun, Esper will compete in the 100- and 200-meter races and the 4x100-meter relay. At the 2013 Deaflympics in Sofia, Bulgaria, Esper broke the junior world record in the 100 meters. He began running track in sixth grade while attending the Illinois School for the Deaf.
Athletic Director Doug Spiwak said that since Esper was injured during his first year at Harper and unable to compete in the 2016 track season, the NJCAA granted him a hardship, allowing him to participate in athletics next year.
Esper told ABC 7 that his goal is to bring home four gold medals and inspire others like him to compete.
"I think it'll be a lot of fun," he said.