"Down the Rabbit Hole" art exhibit explores drugs, alcohol
"Down the Rabbit Hole" art exhibit explores drugs, alcohol

Harper College News Bureau

June 21, 2017

June 21, 2017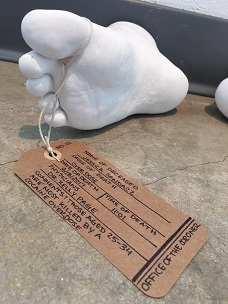 Several disturbing yet important stories unfold in Harper College's new art exhibit, "Down the Rabbit Hole: A Deeper Look into Drugs and Alcohol," which runs through July 13.
"Down the Rabbit Hole" is a collaboration between artists Jessica Sandacz, Mara Pearson and Harper College Health Services. Director of Health Services Bridget Cahill challenged her two staff members to create something that would help open a campus discussion about the effects of drugs and alcohol. The project took a little more than two months to put together, and the artists' interpretation is now on display.
Each piece in the exhibit is designed to capture the viewer's eye from a distance. Closer inspection reveals statistics and facts that serve to educate the viewer about the many ways drugs and alcohol affect our bodies, friends and lives.
One piece entitled "Home" is an interactive furniture sculpture that invites the viewer into the home life of a 7-year-old and three younger siblings whose parents had overdosed. Rooted in a true news story out of McKeesport, Pa., the girl told her bus driver that she hadn't been able to wake up her mom or dad for days.
"Throughout the pieces, we have incorporated words into the visuals – words are a creative medium, and they are integral to the art," Sandacz said. "We want people to be reflective, to think about their own experiences."
Harper's Art Exhibition space is located in Building C, Room C200 on the College's main campus, 1200 W. Algonquin Rd. in Palatine. The exhibit is open 9 a.m. to 4 p.m. Monday through Thursday.
For more information, call the art department at 847.925.6568.