Women's group awards two $10,000 scholarships
Women's group awards two $10,000 scholarships

Harper College News Bureau

July 19, 2017

July 19, 2017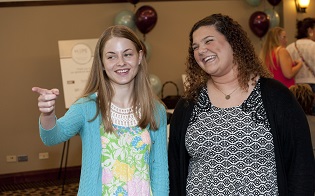 There wasn't a dry eye to be found at a recent reception of the Harper College Educational Foundation's HOPE Giving Circle, where two remarkable young women were awarded $10,000 scholarships.
Recipients Michelle Feigler of Buffalo Grove and Rachel Kereszturi of Rolling Meadows, both entering their second year at Harper College, each shared their journeys and highlighted the tremendous impact that the group's support is already making on their lives.
Harper's HOPE Giving Circle brings together influential women with a common goal of supporting women to pursue higher education and reach their full potential through financial support, ongoing mentoring and leadership development.
Michelle Feigler, 19, Buffalo Grove
Personal struggles led to Feigler dropping out of high school.
"I had given up on my future before it had begun," she said. "I was so lost without clarity or purpose. I had nothing to hold on to. And I did not have the faith in myself or the will to change my situation."
That changed when Feigler's mother, her family's sole provider, had a heart attack and spent several months in the hospital. Feigler said she was forced to choose: either sit and stew in her misery, or become an active member of her life.
She chose the latter, enrolled in Harper's High School Equivalency (formerly GED) program and earned her diploma. She immediately transitioned to college-credit courses, earning a 4.0 GPA her first year, a place in the honors program and the Phi Theta Kappa honors society. Feigler also joined the speech and debate team, placing at several competitions.
Outside of Harper, Feigler has been an active volunteer at her synagogue, park district and summer camp. Dr. Elizabeth Hull, professor emerita, also introduced Feigler to the League of Women Voters.
Feigler currently is exploring four-year institutions including Northwestern University. She plans to study English and political science and is considering law school.
"From this day forward, I will be able to say there was a group of women, full of compassion, full of generosity, who gave me hope and a chance at a future – a future I thought I was incapable of ever seeing," Feigler said.
Rachel Kereszturi, 19, Rolling Meadows
Rachel Kereszturi was a decent student in high school but not particularly inclined to challenge herself. She admits she was afraid of not succeeding. When she came to Harper, she decided it was time to push herself. Try new things, meet new people and test her limits.
Her efforts have paid off.
Kereszturi carries a near-perfect GPA and was admitted to the honors program and Phi Theta Kappa honors society. She also embraced her passion for math and plans to study actuarial science at the University of Illinois at Urbana-Champaign.
She volunteers at the Buddy Foundation – sometimes multiple days each week – and plays the cello in the choir at Northwest Community Healthcare, where she works as a files clerk.
The scholarship is welcome relief. Kereszturi said her mother bears the burden of the mortgage, bills and two kids in college.
"My mom has been my source of inspiration," Kereszturi said. "But I know that the strong, independent and successful women of the HOPE Giving Circle will inspire me as well."
A growing club
Feigler and Kereszturi join the HOPE Giving Circle's inaugural scholarship recipient, Kayla Karbowski, a Harper alum who's heading to Illinois State University this fall.
Each recipient can use her $10,000 scholarship at Harper and/or a transfer institution. They also benefit from a different mentor who provides guidance and support.
Lori Meier, chair of the group's executive committee, closed the reception with a special message to the recipients.
"What's so exciting is that you will pay it forward," she said. "I know you will. What started here will continue to grow, and that's what we're so passionate about. Just think of where this could be 10 or 20 years from now."
For more information about the HOPE Giving Circle, visit harpercollege.edu/foundation or call 847.925.6490.